Implementation of a low-cost agricultural machine for the soft dry corn harvesting process originating in the Andean region
Melton Tapia

Universidad de las Fuerzas Armadas

Sandra Arla

Universidad de las Fuerzas Armadas

Edison Tapia

Universidad de las Fuerzas Armadas
Keywords:
machine, shredded, thresh, soft dry corn, Andean Region
Abstract
An agricultural machine of compact size, low cost of manufacture and operation, has been developed for the process of threshing the soft dry corn, originating from the Ecuadorian Andean Region. The simple manufacturing prototype is unique for application in the aforementioned corn species. The main contribution of this development is to provide the farmer with a simple tool that allows him to technify the operation of corn harvesting, an operation that is critical in the harvest stage.
Downloads
Download data is not yet available.
References
Agenda Zonal 3 (s. f) Recuperado de http://www.planificacion.gob.ec/wp-content/uploads/downloads/2015/11/Agenda-zona-3.pdf
Clasificación del Choclo por su tamaño. (s.f) Recuperado de https://law.resource.org/pub/ec/ibr/ec.nte.1761.1991.pdf
FAO, (2016). La ingeniería en el desarrollo – manejo y tratamiento de granos poscosecha. Recuperado de http://www.fao.org/docrep/x5041S03.htm.
Google Desgrana-Matic (s.f) Recuperado de https://sites.google.com/site/desgranamatic/maquinaria
Granda, D. (2013). IICA. Recuperado de http://repiica.iica.int/docs/B3203e/B3203e.pdf.
Leonard, D. (2016). La cosecha, el secamiento y almacenamiento. Recuperado de Penagos Hermanos (s.f). Desgranadora de maíz. Recuperado de www.penagos.com/producto/desgranadora-de-maiz-dm-2/
Ulrich,K y Eppinger, D (2013). Diseño y desarrollo de productos. (5ta ed) México: Editorial Mc Graw Hill.
Ureña, J y Villavicencio, J. (2012), Diseño y construcción de una máquina para el proceso de desgranado de maíz de la costa. Recuperado de http://dspace.espoch.edu.ec/bitstream/123456789/2483/1/15T00532.pdf
Wiselyn, (2011). Manejo poscosecha de maíz. Recuperado de http://poscosechadelmaiz.blogspot.com.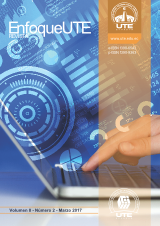 How to Cite
Tapia, M., Arla, S., & Tapia, E. (2017). Implementation of a low-cost agricultural machine for the soft dry corn harvesting process originating in the Andean region. Enfoque UTE, 8(2), pp. 1 - 14. https://doi.org/https://doi.org/10.29019/enfoqueute.v8n2.152
Section
General Engineering

This work is licensed under a Creative Commons 3.0 BY EC License.