Caracterización y dinámica espacio-temporal de Cylindrospermopsis raciborskii en una laguna amazónica, Ecuador
Judith Venegas

Centro de Información y Asesoramiento Toxicológico (CIATOX) Quito

Pablo Castillejo Pons

Universidad Internacional SEK

Susana Chamorro

Universidad Internacional SEK

Ivonne Carrillo

Universidad Internacional SEK

Eduardo Lobo

Universidade de Santa Cruz do Sul
Palabras clave:
amazonas, cyanobacteria, sudamérica, Limoncocha
Resumen
La cianobacteria Cylindrospermopsis raciborskii es una especie omnipresente en agua dulce desde el clima tropical hasta el clima templado. Es potencialmente capaz de producir toxinas. Por lo tanto, es necesario monitorear su presencia en aguas dulces asociadas a actividades de uso recreativo y consumo humano. Hay informes oficiales y una tesis que informan la presencia de C. raciborskii en Ecuador. Sin embargo, este país no aparece en los últimos mapas de distribución de esta especie en la literatura científica. En este artículo, reportamos la presencia de C. raciborskii en Ecuador, junto con la caracterización de las condiciones ambientales de uno de los hábitats donde esta especie está presente: la laguna Limoncocha, provincia de Sucumbíos
Descargas
La descarga de datos todavía no está disponible.
Citas
Antunes, J. T., Leão, P. N., & Vasconcelos, V. M. (2015). Cylindrospermopsis raciborskii: review of the distribution, phylogeography, and ecophysiology of a global invasive species. Frontiers in Microbiology, 6, 473. http://doi.org/10.3389/fmicb.2015.00473
Azevedo, S. M. F. O., Carmichael, W. W., Jochimsen, E. M., Rinehart, K. L., Lau, S., Shaw, G. R., & Eaglesham, G. K. (n.d.). Human intoxication by microcystins during renal dialysis treatment in Caruaru*/ Brazil.
Berman-Frank, I., Lundgren, P., & Falkowski, P. (2003). Nitrogen fixation and photosynthetic oxygen evolution in cyanobacteria. Research in Microbiology, 154, 157–164. http://doi.org/10.1016/S0923-2508(03)00029-9
Bonilla, S., Aubriot, L., Soares, M. C. S., González-Piana, M., Fabre, A., Huszar, V. L. M., Kruk, C. (2012). What drives the distribution of the bloom-forming cyanobacteria Planktothrix agardhii and Cylindrospermopsis raciborskii? FEMS Microbiology Ecology, 79(3), 594–607. http://doi.org/10.1111/j.1574-6941.2011.01242.x
Bouvyli, M., Molica2, R., De Oliveira3, S., Marinho3, M., & Beker4, B. (1999). Dynamics of a toxic cyanobacterial bloom ( Cylindrospermopsis raciborskii) in a shallow reservoir in the semi-arid region of northeast Brazil, 20, 285–297.
Briand, J. ., Robillot, C., Quiblier-Llobéras, C., Humbert, J. ., Couté, A., & Bernard, C. (2002). Environmental context of Cylindrospermopsis raciborskii (Cyanobacteria) blooms in a shallow pond in France. Water Research, 36(13), 3183–3192. http://doi.org/10.1016/S0043-1354(02)00016-7
Calandrino, E. S., & Paerl, H. W. (2011). Determining the potential for the proliferation of the harmful cyanobacterium Cylindrospermopsis raciborskii in Currituck Sound, North Carolina. Harmful Algae, 11, 1–9. http://doi.org/10.1016/j.hal.2011.04.003
Chislock, M. F., Sharp, K. L., & Wilson, A. E. (2014). Cylindrospermopsis raciborskii dominates under very low and high nitrogen-to-phosphorus ratios. Water Research, 49, 207–214. http://doi.org/10.1016/j.watres.2013.11.022
Durañona, G. D. G. (2005). Estudio de los sedimentos de la laguna de Limoncocha. Tesis de grado. Facultad de Ambientales, Universidad Internacional SEK, Quito, Ecuador
Hach. (n.d.). Manual de Análisis de Agua Segunda edición en español. Retrieved from file:///C:/Users/Karla Lavanda/Downloads/Water Analysis Manual-Spanish-Manual de Analisis de Agua.pdf
Hammer, Ø., Harper, D. A. T., RYAN, P. D. 2001. PAST: Paleontological Statistics Software Package for Education and Data Analysis. Palaeontologia Electronica, 4(1): 9p.
Hamilton, P. B., Ley, L. M., Dean, S., & Pick, F. R. (2005). The occurrence of the cyanobacterium Cylindrospermopsis raciborskii in Constance Lake: an exotic cyanoprokaryote new to Canada. Phycologia, 44(1), 17–25.
Hawkins, P. R., Runnegar, M. T. C., Jackson, A. R. B., Falconer2, I. R., Jackson, R. B., Runnegar, M. T. C., … Megarty, M. (1985). Severe Hepatotoxicity Caused by the Tropical Cyanobacterium (Blue-Green Alga) Cylindrospermopsis raciborskii (Woloszynska) Seenaya and Subba Raju Isolated from a Domestic Water Supply Reservoir. Applied and Environmental Microbiology, 50(5), 1292–1295.
Instituto Geográfico Militar. (2017). Base de datos cartográfica escala 1: 50.000.
Isvanovics, V., Shafik, H. M., Presing, M., & Juhos, S. (2000). Growth and phosphate uptake kinetics of the cyanobacterium, Cylindrospermopsis raciborskii (Cyanophyceae) in throughflow cultures. Freshwater Biology, 43(2), 257–275. http://doi.org/10.1046/j.1365-2427.2000.00549.x
Ken-a-vision. (n.d.). Applied Vision 4 Software. Retrieved from http://ken-a-vision.com/support/applied-vision-4-software-2
Komárek, J. & Komárková–Legnerová, J. (2003). Phenotype diversity of the cyanoprokaryotic genus Cylindrospermopsis (Nostocales). Czech Phycology, 3, 1–30.
Llamas, R & Custodio, E. (1972). Diferencias significativas entre los aprovechamientos de aguas subterráneas y superficiales: aspectos fisicoquímicos. Internacionals, núm. 45-46, pp. 35-57.

Padisák, J. (1997). Cylindrospermopsis raciborskii (Woloszynska) Seenayya et Subba Raju, an expanding, highly adaptive cyanobacterium: worldwide distribution and review of its ecology.
Padisák, J., & Reynolds, C. S. (1998). Selection of phytoplankton associations in Lake Balaton, Hungary, in response to eutrophication and restoration measures, with special reference to the cyanoprokaryotes. Hydrobiologia, 384(1/3), 41–53. http://doi.org/10.1023/A:1003255529403
Prado M. & Bucheli R. (2012). Distribución y abundancia del plancton en el embalse Daule.Peripa durante 2011-2012. Guayaquil.
Saelens, P. (2015). Ecological functioning of a shallow lake in Ecuador, Laguna Yahuarcocha. K.U. Leuven, Kulak.
Schwaderer, A. S., Yoshiyama, K., de Tezanos Pinto, P., Swenson, N. G., Klausmeier, C. A., & Litchman, E. (2011). Eco-evolutionary differences in light utilization traits and distributions of freshwater phytoplankton. Limnology and Oceanography, 56(2), 589–598. http://doi.org/10.4319/lo.2011.56.2.0589
Smayda, T. (1997). What is a Blomm? Limnology and Oceanography, 42, 1132–1136.
Sprőber, P., Shafik, H. M., Présing, M., Kovács, A. W., & Herodek, S. (2003). Nitrogen uptake and fixation in the cyanobacterium Cylindrospermopsis raciborskii under different nitrogen conditions. Hydrobiologia, 506–509(1–3), 169–174. http://doi.org/10.1023/B:HYDR.0000008617.90245.5f
Stüken, A., Rücker, J., Endrulat, T., Preussel, K., Hemm, M., Nixdorf, B., Wiedner, C. (2006). Distribution of three alien cyanobacterial species (Nostocales) in northeast Germany: Cylindrospermopsis raciborskii, Anabaena bergii and Aphanizomenon aphanizomenoides. Phycologia, 45(6), 696–703. http://doi.org/10.2216/05-58.1
World health Organization. (1999). Toxic Cyanobacteria in Water : A guide to their public health consequences, monitoring and management. (I. Chorus & J. Bartram, Eds.)
Wu, Z., Shi, J., & Li, R. (2009). Comparative studies on photosynthesis and phosphate metabolism of Cylindrospermopsis raciborskii with Microcystis aeruginosa and Aphanizomenon flos-aquae. Harmful Algae, 8(6), 910–915. http://doi.org/10.1016/j.hal.2009.05.002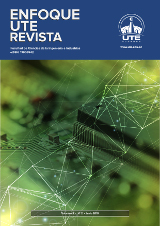 Cómo citar
Venegas, J., Castillejo Pons, P., Chamorro, S., Carrillo, I., & Lobo, E. (2018). Caracterización y dinámica espacio-temporal de Cylindrospermopsis raciborskii en una laguna amazónica, Ecuador. Enfoque UTE, 9(2), pp. 117 - 124. https://doi.org/https://doi.org/10.29019/enfoqueute.v9n2.195

Esta obra está bajo una Licencia Creative Commons Internacional Attribución 4.0.