Combinando la ovoscopía manual y automática: Una solución segura y socialmente responsable
Ramiro Sebastián Vargas Cruz

Universidad Técnica de Cotopaxi

Lourdes Cecilia Ruiz Salvador

Obuda University

María Cristina Navas Lema

Universidad de las Fuerzas Armadas ESPE
Palabras clave:
Ovoscopía; diseño mecatrónico; control de calidad
Resumen
En la industria avícola los huevos deben cumplir con altos estándares de calidad. El primer paso en el proceso de calidad, es el análisis por ovoscopía, el cual es una inspección no destructiva que consiste en aplicar luz sobre la muestra para detectar anormalidades. Generalmente este proceso se realiza de forma manual en pequeñas y medianas industrias avícolas del Ecuador. La ovoscopía manual es susceptible a errores humanos y genera problemas de salud en trabajadores tales como: trastornos oculares por trabajar prolongadas horas en cuartos oscuros; y problemas ergonómicos a largo plazo debido a que es una tarea monótona ejecutada a diario.  Por lo tanto, la implementación de un proceso automatizado resulta relevante para el mejoramiento y seguridad del proceso. El siguiente estudio describe el diseño mecánico, eléctrico, electrónico y el método de procesamiento digital de imagen aplicado a la ovoscopía obtenida de las muestras. La innovación de este equipo reside en la posibilidad de realizar el análisis automático y adicionalmente una inspección manual de los huevos, lo cual mejora la efectividad del proceso. Su accesibilidad económica y versatilidad de manejo automático/manual la destacan entre dispositivos comercialmente similares. Además, va más allá del diseño y describe soluciones válidas en materia de seguridad laboral y desnutrición que pueden surgir gracias a la implementación de este innovador diseño.
Descargas
La descarga de datos todavía no está disponible.
Citas
Abdullah, M., Nashat, S., Anwar, S., & Abdullah, M. (2017). A framework for crack detection of fresh poultry eggs at visible radiation. Computers and Electronics in Agriculture, 81-95.
Arango, J. (2013, March 5). Calidad Externa e Interna del Huevo. Retrieved from AVICOL Genetica Animal: http://avicol.co/descargas2/CalidadExternaInternaHuevo.pdf
Arivazhagan, S., Shebiah, R. N., Sudharsan, H., Kannan, R. R., & Ramesh, R. (2013). External and internal defect detection of egg using machine vision. Journal of Emerging Trends in Computing and Information Sciences, 257-262.
Brereton, P. (1996). Authentication of eggs and egg products. In P. R. Ashurst, & M. J. Dennis, Food Authentication (pp. 339-350). London: Blackie Academic & Proflessional.
El Universo. (2016, September 4). La desnutrición infantil, un mal que cuesta revertir. Informes - El Universo. Retrieved from Informes - El Universo: https://www.eluniverso.com/noticias/2016/09/04/nota/5780076/desnutricion-infantil-mal-que-cuesta-revertir
Hashemzadeh, M., & Farajzadeh, N. (2016). A Machine Vision System for Detecting Fertile Eggs in the Incubation Industry. International Journal of Computational Intelligence Systems, 850-862.
Iannotti, L. L., Lutter, C. K., Stewart, C. P., Riofrio, C., Malo, C., Reinhart, G., . . . Waters, W. (2017). Eggs in Early Complementary Feeding and Child Growth: A Randomized Controlled Trial. Pediatrics, 1-9.
Lewin, J. (2017, July 18). The health benefits of eggs. Retrieved from goodfood: https://www.bbcgoodfood.com/howto/guide/ingredient-focus-eggs
Liu, Y. C., Ter Hsin Chen, Y. C., & Tan, F. J. (2017). Determination of the quality of stripe-marked and cracked eggs during storage. Asian-Australasian journal of animal sciences, 1013-1020.
Moreta, M. (2016, February 23). Los productores de huevos de Tungurahua temen una quiebra. El Comercio.
Occupational Safety and Health Administration. (2000). Ergonomics: The Study of Work. Washington, DC: United States Department of Labor.
Ragni, L., Cevoli, C., & Berardinelli, A. (2010). A waveguide technique for non-destructive determination of egg quality parameters. Journal of food engineering, 343-348.
United States Department of Agriculture. (2010). Manual, EGG-Grading. Washington, D.C.: Agricultural Marketing Services.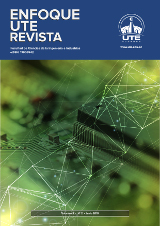 Cómo citar
Vargas Cruz, R., Ruiz Salvador, L., & Navas Lema, M. (2018). Combinando la ovoscopía manual y automática: Una solución segura y socialmente responsable. Enfoque UTE, 9(2), pp. 70 - 76. https://doi.org/https://doi.org/10.29019/enfoqueute.v9n2.292
Sección
Alimentos, Agroindustrial, ...

Esta obra está bajo una Licencia Creative Commons Internacional Attribución 4.0.