Formulation and characterization of a nutritional pumpkin-based whey beverages, enriched with oatmeal and passion fruit
Alex Valencia

Universidad Técnica de Ambato

Liliana Acurio

Universidad Técnica de Ambato

Lander Pérez

Universidad Técnica de Ambato

Diego Salazar

Universidad Técnica de Ambato

Verónica Tamayo

Universidad Técnica de Ambato
Keywords:
beverages, pumpkin, oatmeal, passion fruit, milk, whey
Abstract
In this work, the effect on the addition of oatmeal (Avena sativa) and passion fruit (Passiflora edulis) in the content of fiber, calcium, iron, phosphorus and A vitamin in beverage formulation based on pumpkin (Cucurbita maxima), milk and whey, was determined. The beverages undergone significant changes during the storage time, the pH decreased as the acidity showed a slight increase. The coordinates of CIELAB (L *, a * and b *) were located in quadrant 1 indicating a clear tendency to yellow caused by the presence of carotenoids from the pumpkin and passion fruit. Based on the sensory analysis it was selected best treatment who was higher in 3 of the 4 parameters evaluated. This sample also presented a pseudoplastic behavior with a consistency index of 3.57 Pa.s0.24 and a shelf life of 9 days
Downloads
Download data is not yet available.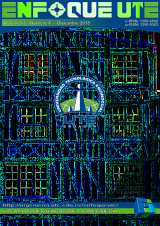 How to Cite
Valencia, A., Acurio, L., Pérez, L., Salazar, D., & Tamayo, V. (2015). Formulation and characterization of a nutritional pumpkin-based whey beverages, enriched with oatmeal and passion fruit. Enfoque UTE, 6(4), pp. 55 - 66. https://doi.org/https://doi.org/10.29019/enfoqueute.v6n4.78
Section
General Engineering

This work is licensed under a Creative Commons 3.0 BY EC License.