Determination of cadmium and lead in water, sediment and bioindicator organisms in Estero Salado, Ecuador
Beatriz Margarita Pernía Santos

Facultad de Ciencias Naturales, Universidad de Guayaquil

https://orcid.org/0000-0002-2476-7279

Mariuxi Mero

Instituto de Investigaciones de Recursos Naturales, Universidad de Guayaquil, Guayaquil–Ecuador

Xavier Cornejo

Herbario GUAY, Facultad de Ciencias Naturales, Universidad de Guayaquil, Guayaquil–Ecuador

Nelson Ramírez-Prado

Facultad de Ciencias Naturales, Universidad de Guayaquil

Lissette Ramírez

Facultad de Ciencias Naturales, Universidad de Guayaquil

Kenya Bravo

Facultad de Ciencias Naturales, Universidad de Guayaquil

David López

Facultad de Ciencias Naturales, Universidad de Guayaquil

Jorge Muñoz

Facultad de Ciencias Naturales, Universidad de Guayaquil

Josué Zambrano

Facultad de Ciencias Naturales, Universidad de Guayaquil
Keywords:
sentinels, heavy metals, Portete bridge, Littorina varia, Cerithidea mazatlanica
Abstract
Evidence of pollution by heavy metals have been detected in the city of Guayaquil, province of Guayas, coastal Ecuador. The water and sediment in the mangrove environs of Puente Portete in Estero Salado were tested for concentrations of cadmium (Cd) and lead (Pb), as well as the following organisms: gastropods, including Littorina varia and Cerithidea mazatlanica, and the leaves of Rhizophora racemosa, Laguncularia racemosa, Avicennia germinans, and Conocarpus erectus. The samples were analyzed using flame atomic absorption spectrophotometry. The values of Cd and Pb in water and sediment exceeded the permissible limits established by Ecuadorian and Canadian standards. The gastropod species L. varia and C. mazatlanica were the best indicator organisms for detecting pollution by accumulating 2.45 ± 0.49 ppm Pb and 1.49 ± 0.67 ppm Cd, respectively. Because of the low bioavailability of heavy metals in sediments, mangrove plants did not accumulate Cd and Pb in leaves.
Downloads
Download data is not yet available.
References
Acuerdo Ministerial 097-A (2016). Acuerdo Ministerial 097-A. Quito: Ministerio de Medio Ambiente.
Aksoy, A. y Öztürk, M.A. (1997). Nerium oleander L. as a Biomonitor of Lead and Other Heavy Metal Pollution in Mediterranean Environments. Science of the Total Environment, 205 (2–3), 145–150.
Alcívar, M. y Mosquera, A. (2011). Concentración de Metales Pesados (Cr Total, Pb, Cd) En Agua Superficial y Sedimentos en el Estero Salado (Guayaquil). Tesis. Facultad de Ciencias Naturales, Universidad de Guayaquil.
Alloway, B.J. (1995) Soil processes and behaviour of metals. En: Alloway, B.J. (Ed). Heavy metals in soils. Second edition. John Wiley, New York, pp.11-37.
Arroyave, M., Gómez, C., Gutiérrez, M.E., Múnera, D., Zapata, P., Vergara, I., Andrade, L. y Ramos, K. (2006). Impacto de las carreteras sobre la fauna silvestre y sus principales medidas de manejo. Revista EIA, 5, 45-47.
Batuman, V., Maesaka, J.K., Haddad, B., Tepper, E., Landy, E. y Wedeen, R.P. (1981). The Role of Lead in Gout Nephropathy. The New England Journal of Medicine, 304 (9), 520–23.
Bjerregaard, P., Andersen, C. B. I. y Andersen, O. L. E. (2015). Ecotoxicology of Metals—Sources, Transport,and Effects on the Ecosystem. Handbook on the Toxicology of Metals (Fourth Edi). Elsevier. https://doi.org/10.1016/B978-0-444-59453-2.00021-4
Bryan, G. (1983). Brown Seaweed, Fucus vesiculosus, and the Gasteropod Littorina Littoralis, as Indicators of Trace-Metal Availability in Estuaries. The Science of the Total Environment, 28, 91–104.
Burger, J. (2008). Assessment and Management of Risk to Wildlife from Cadmium. Science of the Total Environment, 389, 37–45.
Campos, N. y Gallo, M. (1997). Contenidos de Cd, Cu y Zinc en Rhizophora mangle y Avicennia germinans de La Ciénaga Grande de Santa Marta Y Bahía de Chengue, Costa Caribe Colombiana. Rev. Acad. Colomb. Cienc, XXI (79), 73–90.
Calderón, C. y Valdés, J. (2012). Contenido de metales en sedimentos y organismos bentónicos de la bahía San Jorge, Antofagasta, Chile. Revista de Biología Marina y Oceanografía, 47(1), 121-133.
Cárdenas-Calle, M. y Mair, J. (2014). Caracterización de macroinvertebrados bentónicos de dos ramales estuarinos afectados por la actividad industrial, Estero Salado-Ecuador. Rev. Intropica, 9, 118-128.
Castrillo, M., Pernia, B., De Sousa, A. y Reyes, R. (2012). Utilization of Different Aspects Associated with Cadmium Tolerance in Plants to Compare Sensitive and Bioindicator Species. In Phytotechnologies: Remediation of Environmental Contaminants, Taylor and Francis, 427–440.
Chandra, P. y Khuda-Bukhsh, A.R. (2004). Genotoxic effects of cadmium chloride and azadirachtin treated singly and in combination in fish. Ecotoxicology and Environmental Safety, 58(2), 194–201.
Cornejo, X. (2014). Plants of the South American Pacific Mangrove Swamps (Colombia, Ecuador, Peru). Primera Ed., Facultad de Ciencias Naturales, Universidad de Guayaquil.
Counter, S., Buchanan, L.H. y Ortega, F. (2012). Association of Hemoglobin Levels and Brainstem Auditory Evoked Responses in Lead-Exposed Children. Clinical Biochemistry, 45 (15), 1197–1201.
Cruz, M. (2003). Malacofauna bentónica existente en los alrededores de la Ciudad de Guayaquil (Estero Salado y Río Guayas), Durante 2003. Acta Oceanográfica del Pacífico, 12(1): 135 - 145.
De Laune, R.D., Reddy, C.N. y Patrick, W.H. (1981). Effect of pH and Redox Potential on Concentration of Dissolved Nutrients in an Estuarine Sediment1. Journal of Environment Quality, 10 (3), 276.
De Wolf, H., Backeljau, T. y Blust, R. (2000). Heavy Metal Accumulation in the Periwinkle Littorina littorea, along a Pollution Gradient in the Scheldt Estuary. Science of the Total Environment, 262, 111–21.
Defew, L.H., James, M. y Guzman, H. (2005). An Assessment of Metal Contamination in Mangrove Sediments and Leaves from Punta Mala Bay, Pacific Panama. Marine Pollution Bulletin, 50, 547–52.
Eissa, B.L., Salibiani, A., Ferrari, L., Porta, P. y Borgnia, M. (2003). Evaluación toxicológica no invasiva del cadmio: modificaciones de biomarcadores conductuales en Cyprinus carpio. Biología Acuática, 20, 56–62.
El Telégrafo. (2014). Metales pesados dejan efectos neurológicos en vecinos del Estero. Recuperado de https://www.eltelegrafo.com.ec/noticias/guayaquil/10/metales-pesados-dejan-efectos-neurologicos-en-vecinos-del-estero
EMAG. (1978). Recuperación del Estero Salado. Plan de Trabajo. Empresa Municipal de Alcantarillado de Guayaquil. Guayaquil, Ecuador . 43 pp.
Ernst, W.H.O. (1996). Bioavailability of Heavy Metals and Decontamination of Soils by Plants. Applied Geochemistry, 11 (1–2), 163–67.
Espinosa, L., Parra, J. y Villamil, C. (2011). Determinación del Contenido de Metales Pesados en Las Fracciones Geoquímicas del Sedimento Superficial Asociado a Los Manglares de la Ciénaga Grande de Santa Marta, Colombia. Bol. Invest. Mar. Cost., 40 (1), 7–23.
Fanny, C., Virginie, A., Jean-François, F., Jonathan, B., Marie-Claude, R. y Simon, D. (2013). Benthic indicators of sediment quality associated with run-of-river reservoirs. Hydrobiologia, 703(1), 149–164.
Fernández-Cadena J.C., Andrade, S., Silva-Coello, C.L. y De la Iglesia, R. (2014). Heavy Metal Concentration in Mangrove Surface Sediments from the North-West Coast of South America. Marine Pollution Bulletin, 82 (1–2), 221–226.
Frest, T.J. (2002). Native snails: Indicators of Ecosystem Health. p. 211-215, in: Welfare Ranching, G. Wuerthner and M. Matteson (Eds.). Island Press, Sausalito, California.
Gallagher, C.M. y Meliker, J.R. (2010). Blood and Urine Cadmium, Blood Pressure, and Hypertension: A Systematic Review and Meta-Analysis. Environmental Health Perspectives, 118 (12), 1676–84.
García, I. y Dorronsoro, C. (2005). Contaminación por metales pesados. En: Tecnología de Suelos. Universidad de Granada. Departamento de Edafología y Química Agrícola. Obtenido de http://edafologia.ugr.es/conta/tema15/introd.htm.
González-Mendoza, D., Ceja-Moreno, V., Gold-Bouchot, G., Escobedo-Graciamedrano, R.M., Del-Rio, M., Valdés-Lozano, D. y Zapata-Pérez, O. (2007). The Influence of Radical Architecture on Cadmium Bioaccumulation in the Black Mangrove, Avicennia Germinans L. Chemosphere, 67 (2), 330–34.
Guarco, K. (2015). Tratamiento del sedimento marino del ramal B del Estero Salado para la Remoción de metales pesados. Tesis de Grado de la la Facultad de Ciencias Naturales y Matemática. Escuela Superior Politécnica del Litoral Obtenido de: http://www.dspace.espol.edu.ec/xmlui/handle/123456789/31957
Guzmán, H.M. y Jiménez, C. (1992). Contamination of Coral Reefs by Heavy Metals along the Caribbean Coast of Central America (Costa Rica and Panama). Marine Pollution Bulletin, 24 (11), 554–61.
Henson, M.C. y Chedrese, P. (2004). Endocrine Disruption by Cadmium, a Common Environmental Toxicant with Paradoxical Effects on Reproduction. Experimental Biology and Medicine, 229 (5), 383–92.
Hooda, P.S. y Alloway, B.J. (1993). Effect of time and temperatura on the bioavailability of Cd and Pb from sludge-amended soil. J. Soil. Sci., 44, 97-110.
Järup, L. y Alfvén, T. (2004). Low Level Cadmium Exposure, Renal and Bone Effects--the OSCAR Study. Biometals, 17 (5), 505–509.
Jiménez, D. (2012). Cuantificación de Metales Pesados (cadmio, cromo, níquel y plomo) en agua superficial, sedimento y organismos (Crassostrea Columbiensis) Ostión de mangle en el Puente Portete Del Estero Salado (Guayaquil). Tesis. Facultad de Ciencias Naturales, Universidad de Guayaquil.
Jones, J.A., Swanson, F.J., Wemple, B.C. y Snyder, K.U. (2000). Effects of roads on hydrology, geomorphology, and disturbance patches in stream networks. Conservation Biology 14(1), 76-85.
Julin, B., Wolk, A., Johansson, J.E., Andersson, S.O., Andrén, O. y Akesson, A. (2012). Dietary Cadmium Exposure and Prostate Cancer Incidence: A Population-Based Prospective Cohort Study. British Journal of Cancer, 107, 895–900.
Kehrig, H.A., Pinto, F.N., Moreira, I., y Malm, O. (2003). Heavy Metals and Methylmercury in a Tropical Coastal Estuary and a Mangrove in Brazil. Organic Geochemistry, 34 (5), 661–69.
Lacerda, L.D., Martinelli, L.A., Rezende, C.E., Mozeto, A., Ovalle, A.R., Victoria, R.L., Silva, C.A. y Nogueira, F.B. (1988). The Fate of Trace Metals in Suspended Matter in a Mangrove Creek during a Tidal Cycle. The Science of the Total Environment, 75, 169–80.
Lassiter, M., Owens, E., Patel, M.M., Kirrane, E., Madden, M., Richmond-Bryant, J., Hines, E., Davis, A., Vinikoor-Imler, L. y Dubois, J.J. (2015). Cross-species coherence in effects and modes of action in support of causality determinations in the U.S. Environmental Protection Agency's Integrated Science Assessment for Lead. Toxicology, 330, 19-40.
MAE. (2017). Listado de industrias con descargas al Estero Salado. Recuperado de http://www.ambiente.gob.ec/wp-content/uploads/downloads/2012/08/matriz _industriasEMPRESAS.pdf
McBride, M., Sauve, S. y Hendershot, W. (1997). Solubility control of Cu, Zn, Cd and Pb
in contaminated soils. Eur. J Soil Sci, 48, 337–346.
McElroy, J., Shafer, M.M., Trentham-Dietz, A., Hampton, J.M. y Newcomb, P. (2006). Cadmium Exposure and Breast Cancer Risk. Journal of the National Cancer Institute, 98 (12), 869–73.
Mero, M., Arcos, V., Egas, F., Siavichay, F. y Lindao, G. (2012). Determinación de Metales Pesados (Cd y Pb) en moluscos bivalvos de interés comercial Anadara tuberculosa y A. grandis de Puerto El Morro, Ecuador. Revista de Divulgación de la Dirección de Investigaciones y Proyectos Académicos de la Universidad de Guayaquil, 4 (4), 19–32.
Monserrate, L., Medina, J. y Calle, P. (2011). Estudio de condiciones físicas, químicas y biológicas en la zona intermareal de dos sectores del Estero Salado con diferente desarrollo urbano. Tesis. Escuela Superior Politécnica del Litoral Guayaquil. Recuperado de: http://www.dspace.espol.edu.ec/handle/123456789/19190.
Mushak, P. (2011). Lead and Public Health: Science, Risk and Regulation. Retrieved from https://books.google.com/books?id=T5HcahQSOfACypgis=1.
Occhiogrosso, T. J., Waller, W. T. y Lauer, G. J. (1979). Effects of heavy metals on benthic macroinvertebrate densities in foundry cove on the Hudson river. Bulletin of Environmental Contamination and Toxicology, 22(1), 230–237.
Ong Che, RG. (1999). Concentration of 7 Heavy Metals in Sediments and Mangrove Root Samples from Mai Po, Hong Kong. Marine Pollution Bulletin, 39 (1–12), 269–279.
Ordonez, C., Lougheed, V. L., Gardea-torresdey, J. L. y Bain, L. J. (2011). Impact of Metals on Macroinvertebrate Assemblages in the Forgotten Stretch of the Rio Grande. Archives of Environmental Contamination and Toxicology. 1992, 426 - 436.
Parra, J. y Espinosa, L. (2008). Distribución de metales pesados (Pb, Cd y Zn) en perfiles de sedimento asociado a Rhizophora mangle en el Río Sevilla, Cienaga Grande de Santa Marta, Colombia. Bol. Invest. Mar. Cost., 37 (1), 95–110.
Peñafiel, M., Vallejo, A. y Chalen, J. (2017). Evaluación de la calidad físico-química en agua y sedimentos del estero salado en el noroeste de América Latina. Pol. Con. 2(6), 641-669.
Perdomo, L., Ensminger, I., Espinosa, L., Elster, C., Wallner-kersanach, M. y Schnetter, M-L. (1999). The Mangrove Ecosystem of the Ciénaga Grande de Santa Marta (Colombia): Observations on Regeneration and Trace Metals in Sediment. Marine Pollution Bulletin, 37 (8–12), 393–403.
Pernía, B., De Sousa, A., Reyes, R. y Castrillo, M. (2008). Biomarcadores de contaminación por cadmio en plantas. Interciencia, 33, 112–119.
Pinheiro, M., Gándara, P., Silva, E., De Almeida, L.F., Almeida, A.A. y Pinheiro, F. (2012). Accumulation of six metals in the mangrove Crab Ucides cordatus (Crustacea: Ucididae) and its food source, the red mangrove Rhizophora mangle (Angiosperma: Rhizophoraceae). Ecotoxicology and Environmental Safety, 81, 114–121.
Poma, P. (2008). Lead Effects on Humans. Anales de La Facultad de Medicina, 69 (2), 120–126.
Revis, N.W., Zinsmeister, R. y Bull, R. (1981). Atherosclerosis and Hypertension Induction by Lead and Cadmium Ions: An Effect Prevented by Calcium Ion. Proceedings of the National Academy of Sciences of the United States of America, 78 (10), 6494–6498.
Richardson, M.E., Fox, D. y Fry, B.E. (1974). Pathological Changes Produced in Japanese Quail by Ingestion of Cadmium. The Journal of Nutrition, 104, 323–338.
Rodríguez, F. (2013). Cuantificación de cadmio, plomo y níquel en agua superficial, sedimento y Organismos (Mytella Guyanensis) en los puentes Portete Y 5 de Junio Del Estero Salado (Guayaquil). Tesis, Facultad de Ciencias Naturales, Universidad de Guayaquil.
Rosas-Lusett, M.A., Bartorila, M.A. y Ocón-Morales, S. (2016). Laguna del Carpintero, regulador climático en el área urbana de Tampico, Tamaulipas, México. Legado de Arquitectura y Diseño, 20, 113-124.
Smaoui-Damak, W., Rebai, T., Berthet, B. y Hamza-Chaffai, A. (2006). Does cadmium pollution affect reproduction in the clam Ruditapes decussatus? A one-year case study. Comparative Biochemistry and Physiology Part C: Toxicology & Pharmacology, 143(2), 252–261.
Schwartz, G.G., Il'Yasova, D. y Ivanova, A. (2003). Urinary Cadmium, Impaired Fasting Glucose, and Diabetes in the NHANES III. Diabetes Care, 26 (2), 468–470.
Suwazono, Y., Sand, S., Vahter, M., Filipsson, A. F., Skerfving, S., Lidfeldt, J. y Åkesson, A. (2006). Benchmark Dose for Cadmium-Induced Renal Effects in Humans. Environmental Health Perspectives, 114(7), 1072–1076.
Tam, N.F.Y. y Wong, Y.S. (1996). Retention and distribution of heavy metals in mangrove soils receiving wastewater. Environmental Pollution, 94 (3), 283–291.
Traunspurger, W. y Drews, C. (1996). Toxicity analysis of freshwater and marine sediments with meio- and macrobenthic organisms: a review. Hydrobiologia, 328(3), 215–261.
Vásquez, R., Bastardo, A. y Mundarain, I.K. (2005). Ensayo de Toxicidad Aguda CL50-96h con acetato de cadmio y parámetros hematológicos en el híbrido cultivado Colossoma macropomum X Piaractus brachypomus. Zootecnia Tropical, 23 (3), 247–257.
WHO. (2010). Exposure to Cadmium: A Major Public Health Concern. World Health Organization, 3–6. Retrieved from ˂http://www.who.int/ipcs/features/cadmium.pdf. ˃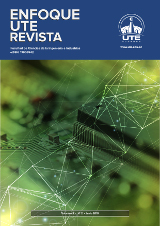 How to Cite
Pernía Santos, B. M., Mero, M., Cornejo, X., Ramírez-Prado, N., Ramírez, L., Bravo, K., López, D., Muñoz, J., & Zambrano, J. (2018). Determination of cadmium and lead in water, sediment and bioindicator organisms in Estero Salado, Ecuador. Enfoque UTE, 9(2), pp. 89 - 105. https://doi.org/10.29019/enfoqueute.v9n2.246

This work is licensed under a Creative Commons 3.0 BY EC License.