Heritage Assets Exposed to Natural Hazards. A Risk Map Proposal
Keywords:
Cultural Heritage Risk Map, Built Heritage, Natural hazards, Geographical Information Systems (GIS)
Abstract
(Received: 2014/02/03 - Accepted: 2014/03/25)
This article is referred to the brief analysis about actually inventoried Ecuadorian Built Heritage, it is registered in ABACO system, its analyzing considers their condition conservation status, for a possible involvement in areas with natural hazards environment. The diagnosis is focused on develop the "Built Heritage Risk Map" using the Geographic Information Systems (GIS) to generate a database, alphanumeric and cartographic to develop the analysis & approval (to the disparity information). Calculating the position and environment information to obtain Build Heritage damages potential risk factors.
Downloads
Download data is not yet available.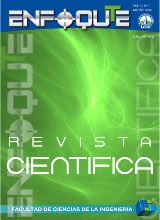 How to Cite
Rueda Guerrero, E. (2014). Heritage Assets Exposed to Natural Hazards. A Risk Map Proposal. Enfoque UTE, 5(1), pp. 30 - 48. https://doi.org/10.29019/enfoqueute.v5n1.34