Use of the naranjilla (Solanum quitoense Lam.) variety INIAP Quitoense-2009 to obtain a carbonated beverage
Juan Gaona-Gonzaga

Universidad Central del Ecuador

Diego Montesdeoca-Espin

Universidad Central del Ecuador

Beatriz Brito-Grandes

Instituto Nacional de Investigaciones Agropecuarias (INIAP)

Andrea Sotomayor-Correa

Instituto Nacional de Investigaciones Agropecuarias (INIAP)

William Viera

Instituto Nacional de Investigaciones Agropecuarias (INIAP)
Keywords:
beverage, carbonation, naranjilla
Abstract
A carbonated beverage was made with natural naranjilla pulp (INIAP Quitoense 2009 variety). Combinations were made with three pulp concentrations (15, 20, 25 %), three concentrations of the natural sweetener stevia (10, 12, 14 %) and water, registering variables of soluble solids, pH and titratable acidity. The best formulation was determined by analysis of variance, Tukey test at 5 % and acceptance by sensory analysis. Subsequently, 0.4, 0.5 and 0.6 % stabilizer (gum arabic) and the same parameters and sedimentation height were measured. Results were analyzed statistically. For carbonation, the most stable beverage was pasteurized and bottled in 350 mL amber glass bottles and 1.8 g of solid CO2 (dry ice) was added. The container was sealed and sensory tests were after 24 hours to determine the acceptance of the carbonated beverage. The most acceptable formulation was: 25 % pulp, 10 % sweetener, 0.5 % stabilizer, 0.1 % sodium benzoate, 0.05 % citric acid, 0.5 % solid CO2 and water. The naranjilla pulp can be used in the elaboration of a carbonated beverage, since it fulfills the Ecuadorian regulations.
Downloads
Download data is not yet available.
References
Andrade, M., Moreno, C., Guijarro, M., Concellón, A. (2015). Caracterización de la naranjilla (Solanum quitoense) común en tres estados de madurez. Revista Iberoamericana de Tecnología Postcosecha, 16 (2): 215-221.
Brito, B., Espin, S., Vásquez, W., Viteri, P., López, P., Jara, J. (2012). Manejo poscosecha, características físicas y nutricionales de la naranjilla para el desarrollo de pulpas y deshidratados. Quito, Ecuador: INIAP.
CODEX. (2018). Norma General para los Aditivos Alimentarios CODEX STAN 192-1995. Roma: FAO.
FAO. (2013). Fichas Técnicas. Procesado de Frutas. Recuperado de http://www.fao.org/3/a-au168s.pdf (accedido el 18/10/2018).
García-Mogollón, C., Alvis-Bermudez, A., Romero, P. (2015). Aplicación del Mapa de Preferencia Externo en la Formulación de una Bebida Saborizada de Lactosuero y Pulpa de Maracuyá. Información tecnológica, 26(5), 17-24.
Gracia, O. (1998). La goma arabiga: Una maravilla natural que nos beneficia a todos. Industria Alimentaria, 1-12.
INEC. (2015). Revista de estadísticas y metodologías. Vol. 1. Nº 1. Recuperado de http://www.ecuadorencifras.gob.ec/ingreso-y-consumo/ (accedido el 18/10/2018).
INEN. (2008). NTE INEN 1091. Bebidas Gaseosas. Requisitos. Recuperado de https://archive.org/details/ec.nte.1101.2008/page/n1(accedido el 18/10/2018).
INEN. (2008). NTE INEN 1101. Bebidas gaseosas determinación de la acidez titulable. Recuperado de https://archive.org/details/ec.nte.1091.1984 (accedido el 18/10/2018).
INEN. (2008). NTE INEN 2337. NTE INEN 2337: Jugos, pulpas, concentrados, néctares, bebidas de frutas y vegetales. Requisitos. Recuperado de https://archive.org/stream/ec.nte.2337.2008#page/n0 (accedido el 18/10/2018).
Maselli, A. y Dierking, J. (2018). Influencia del CO2 disuelto en la medición de la Concentración en Bebidas Dietéticas. Parma: Maselli Misure.
Naddaf, L., Avalo, B., y Oliveros, M. (2012). Secado por aspersión de jugo natural de naranja utilizando los encapsulantes maltodextrina y goma arábiga. Revista Técnica de la Facultad de Ingeniería Universidad del Zulia, 35(1): 20-27.
Revelo, J., Viteri, P., Vásquez, W., Valverde, F., León, J., Gallegos, P. (2010). Manual del cultivo ecológico de la naranjilla. Quito: INIAP.
Silva, P., Durán, S. (2014). Bebidas azucaradas, más que un simple refresco. Revista Chilena de Nutrición, 41(1): 90-97.
Villareal, Y., Mejía, D., Osorio, O., y Cerón, A. (2013). Efecto de pasteurización sobre características sensoriales y contenido de vitamina C en jugos de frutas. Biotecnología en el Sector Agropecuario y Agroindustrial, 11(2), 66-75.
Viteri, P., Vásquez, W., León, F., Viera, W., Posso, M., Hinojosa, A., Revelo, M. Ochoa, J. (2009). INIAP Quitoense-2009 Naranjilla de jugo (Solanum quitoense Lam.) injerta en patrones de solanáceas silvestres resistentes a Fusarium oxysporum y a Meloidogyne incognita. Quito, Ecuador: INIAP.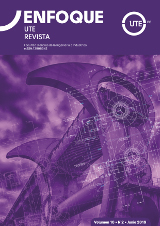 How to Cite
Gaona-Gonzaga, J., Montesdeoca-Espin, D., Brito-Grandes, B., Sotomayor-Correa, A., & Viera, W. (2019). Use of the naranjilla (Solanum quitoense Lam.) variety INIAP Quitoense-2009 to obtain a carbonated beverage. Enfoque UTE, 10(2), pp. 107 - 114. https://doi.org/10.29019/enfoque.v10n2.425

This work is licensed under a Creative Commons 3.0 BY EC License.