Evaluation of a wireless Broadband Network for VoIP in Huaytará
Keywords:
Transport network, access network, Wlan network planning
Abstract
It consists of designing and evaluating the performance of a wireless broadband network in the province of Huaytará, for internet connectivity. It is an applied and experimental investigation where the performance parameters of the network were evaluated. The dependent variable is the capacity of the Wlan cell and the QoS parameters; and as independent variables the coverage and density of the Wlan network. It can be said that for radios up to 8 meters, the experimental client's data rate is higher than the control client's data rate, and for radios greater than 15 meters, the experimental and control client's data rates are no different. As for the QoS parameters, they are favorable for multimedia applications. The network implemented with TDM-E1 / Ethernet and IEEE 802.11n technology, has a maximum capacity per cell of 32.5 Mbps in the 2.4G band and 65 Mbps in the 5.8G band, considering minimum operating parameters of the wireless devices. Users have a 15.2 Mbps field data rate for a maximum radius of 8 meters with up to 7 wireless users connected in the cell, at 2.4 Ghz.
Downloads
Download data is not yet available.
References
Alcívar, A. (2014). Caracterización de un radioenlace entre el campus Portoviejo de la Universidad Técnica de Manabí y su extensión en Bahía de Caráquez. Tesis de Grado Académico de Magíster en Telecomunicaciones de la Universidad Católica de Santiago de Guayaquil.
Barrenechea, Taylor (2011). Diseño de una red inalámbrica para una empresa de Lima, Tesis de grado, Pontificia Universidad Católica del Perú.
Briones, Emilio (2015). Simulación y evaluación de redes Wifi mediante la plataforma Opnet. Universidad católica de Santiago de Guayaquil.
Cabezas, L., y González, F. (2010). Redes Inalámbricas, Madrid: Anaya Multimedia.
Figueroa, M. (2008). Redes de Área Local Inalámbricas, NY: McGraw-Hill.
Forero, C., Moreno, A., y Sierra, L. (2011). Análisis de radiopropación con antenas microceldas, Gerencia Tecnológica informative, vol. 10 N° 27, pp. 35-48, Universidad Industrial de Santander.
Gómez, J. (2006). Nueva Tecnología para Redes Inalámbricas Wi-Fi. Universidad Autónoma del Estado de Hidalgo.
Gómez, B., Maimó, J., y Merideño, J. (2010). Wireless Mesh Networks, 2010. Enginy@eps Nº 2, ISSN:1889-4771.
Hernández, L. (2007). Estudio del impacto de IEEE802.11n sobre las redes wireless en el Perú. Pontificia Universidad Católica del Perú.
INEI (2017). Perfil Sociodemográfico del Departamento de Huancavelica, Lima.
Murillo, J. (2015). Diseño e implantación de una red inalámbrica unificada en el Colegio Nuestra Señora de Fátima de Valencia. Universidad politécnica de Valencia.
Paredes, C. y Cayo, J. (2013). Las barreras al crecimiento económico en Huancavelica, Lima.
Taveras, B. (2013). Propuesta de Diseño e Implementación de la Red Wi-Fi del Campus Universitario UCNE. Universidad Católica Nordestana.
Ubiquiti Networks (2017). Administrador de Redes Inalámbricas Empresariales de Ubiquiti-UEWA.
Vela, P. (2015). Estudio y diseño de un radioenlace para transmisión de datos, e internet en frecuencia libre para la cooperativa indígena "Alfa y Omega" utilizando equipos Airmax de Ubiquiti. Escuela Politécnica Nacional, Ecuador.
Zhai, H., Wang, J. y Fang, Y. (2006). Providing statistical QoS guarantee for voice over IP in the IEEE 802.11 wireless LANs, IEEE Wireless Communications, vol. 13, no. 1, pp. 36 – 43, DOI: 10.1109/MWC.2006.1593523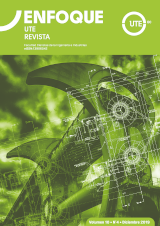 How to Cite
Núñez-Lira, L. A., Rosario Villarreal, M. A., Javier Márquez Camarena, J. F., & Mariño Arroyo, J. B. (2019). Evaluation of a wireless Broadband Network for VoIP in Huaytará. Enfoque UTE, 10(4), pp. 28 - 44. https://doi.org/10.29019/enfoque.v10n4.513
Section
Computer Science, ICTs

This work is licensed under a Creative Commons 3.0 BY EC License.