Medicinal palms of the New World
Keywords:
palms, ethnomedicine, new world
Abstract
The present investigation comprehends a bibliographical summary of the medicinal uses of the palms in the New World. This compilation is based on publications stating medicinal uses of palms since mid XIX century. There are described the species of palms and its medicinal uses in various places in America. A list of species and the medicinal uses of each one is also included.
Downloads
Download data is not yet available.
References
Angely J. (1958). Tratado de Botánica Aplicada a Farmacia. 2nda Ed. Edicoes Phyton. ParanA Brasil.
Antezana L. L. (1976). Palmeras Nativas de Bolivia de Valor
Económico. Simposio internacional sobre plantas de interes econ6mico de la flora Amaz6nica. Belem, Brasil.
Arias H. & Costas F. (1976). Plantas Medicinales. Biblioteca Práctica. Mexico.
Ayala F. (1984). Notes on Some Medicinal and Poisonous Plants of Amazonian Perú. Ethnobotany in the Neotropics. Prance, G. and J. Kallunki. (eds.). Advances in Economic Botany 1:1-8.
Babish, R. E. (1978). Toxicity Studies of Carnauba Wax Consumption in Rats and Oogs. Toxicology and Applied Pharmacology 45(1):311.
Balick M. J. (1984). Ethnobotany of Palms in the Neotropics. Ethnobotany in the Neotropics. Prance, G. and Kallunki J. (eds.) Advances in Economic Botany 1:9-23.
Balick M. J. (1986). Systematics and economic Botany of the Oenocarpus-Jessenia (Palmae) Complex. Advances in Economic Botany, Vol. 3. The New York, Botanical Garden.
Balslev H. (2008). Palmas (Arecaceae) útiles en los alrededores de Iquitos, Amazonía Peruana. Revista Peruana de Biología, No. 15 (supl.1); 121-132.
Bertotto J. C. (1964). Flora Medicinal. Argentina.Tercera Ed.. Editorial "Arenarial".
Boom B. M. (1987). Ethnobotany of the Chacobo Indians, Beni, Bolivia. Advances in Economic Botany, Vol 4. The New York Botanical Garden.
Blomb C. (1927). Pharmacognosy and Materia Medica. J. Wiley & Sons, Inc. New York.
Braga R. (1960). Plantas do Nordeste, Especialmente Do Ceará. Segunda Edición. Imprenta Oficial Brasil.
Bruce R. (1958). The Arikuri Pala. Principes 2(2):59-63.
Brutus C. T. et al. (1960). Les plantes et les Legumes O'Haiti qui guerissent. Tome 11. Haiti. Imprimerie de L'Etat Port-Au-Prince,
Carter J. M. (1888). Medical Botany of the United States. San Louis, Missouri. Geo. H. Field Publisher.
Cavalcante P. B. (1974).Frutas Comestibles de la Amazonía II. Publicaciones Avulsas No. 27. Belen Brasil.
Campera, M. (2011). Árboles medicinales. Lima: Proyecto Araucaria
Curtin L. S. (1947). Bealinq Berbs of the Upper Rio Grande. Santa Fe, New Mexico. Laboratory of Anthropology.
Da Mata A. A. (1913). Flora Medica Brasiliense. Manaus. Sección de Obras de Imprensa Official.
Davis E. W., Yost A. J. (1983). The ethnomedicine of the Waorani of Amazonian Ecuador. Journal of Ethnopharmacology, 9:273-297.
De Fonseca E. T. (1922). Indicator de Madeiras e Plantas Utileis do Brasil. Oficinas Gráficas. Rio de Janeiro. Villas-Boas & Co.
Del Amor S. (1979). Plantas Medicinales del Estado de Yucatán. Instituto Nacional de Xalapa, Veracruz. Investigaciones sobre Recursos Bióticos.
Delascio C. F. (1978). Aportes al Conocimiento de la Etnobotánica del Estado de Cojedes (Venezuela). Contribution No. (1). Estación de Investigaciones Agropecuarias, Caracas. Fundación la Salle de Ciencias Naturales.
Devez G. (1932). Les Plantes Utiles et les lois Industriels de la Guayane. Societe de'Editons Paris. Geographiques, Martimes et Coloniales.
Díaz J. L. (1976). Índice y Sinonimia de las Plantas Medicinales de México. Monograflas Cintificas l. Instituto Mexicano para el Estudio de las Plantas Medicinales (IMEPLAM).
Domínguez J. A. (1910). La Semana Médica. Datos para la Materia Médica Argentina. Callao. Imprenta de Obras de E. Spinelli.
Dugand A. (1972). Las Palmeras y el Hombre. Cespedesia Vol. 1:1-2.
Duke J. A. (1968). Darien Ethnobotanical Dictionary. Bioenviromental and Radiological Safety Feasibility Study, at Atlantic-Pacific Interocceanic Canal. New York. Grosset and Dunlanp.
Duke J. A. (1970). Ethnobotanical Observations on the Choco Indians. Economic Botany 24(3):344-366.
Duke J. A. (1975). Ethnobotanical Observations of the Cuna Indians. Economic Botany 29:278-293.
Falcon M. (1928). Plantas Medicinales y sus Aplicaciones. Imprenta Providencia. Lima.
Fawcett J. W. (1891). Economic Plants: an index to economic products of the veqetable kinqdom in Jamaica. Kingston. Goverment Printing Establishment.
Fedepalma. (15 de 02 de 2012). Sistema de Información del Sector Palmero (SISPA). Obtenido http://sispa.fedepalma.org/sispaweb/default.aspx?Control=Reportes/rep_areadesarrolloproduccion&Sec=2.
Granado & Cia. (1924). Cataloque d'Extraits Fluides de Plantes Medicines du Brasil. Rio de Janeiro.
Griffith R. E. (1847). Medicinal Botany. Philadelphia.Lea and Blanchard.
Gonzalez D. M. (1980). Catálogo de Plantas Medicinales Usadas en Paraguay. Asunción.
Guibourt N.J. y B.G (1851). Historia de las Drogas Simples. Madrid. Editorial M. Gil.
Hartwell J. L. (1970). Plantas used Aqainst Cancer. Lloydia 33(3): 315-318.
Instituto Técnico Agrícola Henequenero. (1943). Plantas Medicinales que Viven en Yucatán. YucatAn. Chaczinkin.
IICA. (1976). Simposio Internacional sobre Plantas de Interés Económico de la Flora Amazónica. Unidad de Documentación. Belem, Brazil.
Iglesias J. (1985). Hierbas Medicinales de los Quichuas del Napo. Ediciones Abya-yala. Quito.
Johnson D. (1972). The carnauba wax palm (Copernica prunifera). Principes 16(4):128-131.
Kahn, F. (1991). Palms as a key swamp forest resource in Amazonia. Fores Ecology and Management, 133-142.
Kraemer H. (1907). A Text-book of Botany and Pharmacoqnosy. Second. Ed. Philadelphia. J. B. Lipincott Co.
Kraemer H. (1915). Scientific an applied Pharmacoqnosy. Published by the author. Philadelphia.
La Barré W. (1959). Materia Médica of the Aymara Lake Titicaca Plateau, Bolivia. Eebbia 15(1):54.
Ledin R. B. (1958). The Arikury Palmo. Principes 2(2):59-63.
Lindley J. (1849). Medical and Economical Botany. Barbury & Evans. London.
Maish J. M. (1899). A Manual of Orqanic Materia Médica. Lea Broth. & Co. Philadelphia.
Martius F. P. (1843). Systema Materiae Medicae Brazil. Veqetabilis Brasilensis.
Manfred L. (1947). Siete Mil Recetas Botánicas a Base de Mil Trescientas Plantas Medicinales. Buenos Aires. Editorial Kier.
Mejia K. G. (1983). Palmeras y el Selvícola Amazónico. Universidad Nacional Mayor de San Marcos. Lima. Museo de Historia Natural.
Mendieta R. M., Del Amor S. (1981). Plantas medicinales del Estado de Yucatán. México. Instituto Nacional de Investigaciones sobre Recursos Bióticos (INIREB).
Montesano A. (1913). Plantas Medicinales. Buenos Aires. Imprenta Suiza de Imsand y Cia.
Morton J. F. (1981). Atlas of Medicinal Plants of Middle America: Bahamas to Yucatán. Springfield, Illinois. Charles C. Tomas.
Mor S 1966). Useful Plants of Brazil. Amsterdam. Holden-Day Inc
Murillo A. (1889). Plantas Medicinales du Chili. Exposition Universelle de Paris, Section Chiliense.
Newcomb E. L. et al. (1928). Pharmacognosy. New York. J. Wilwy & Sons.
Oblitas E. (1969). Plantas Medicinales de Bolivia. Farmacopea Callawaya. Cochabamba. Ed. Los Amigos del Libro.
Pereira H. (1929). Diccionario da Plantas Uteis do Estado do Sao Paulo. Sao Paulo. Secretaria da Agricultura, Industria e Commmercio do Estado do Sao Paulo.
Pérez Arbelaez E. (1935). Plantas Útiles de Colombia. Tomo I. Generalidades, Criptógamas, Gimnospermas y Monocotiledóneas. Bogotá. Imprenta Nacional.
Philippi R. A. (1869). Elementos de Botánica para el Uso de los Estudiantes de Medicina I Farmacia en Chile. Santiago de Chile. Imprenta Nacional.
Pierpont J. (1971). Plant contraceptives and abortifacients. Biology 104. Harvard University.
Plotkin M. J., Balick M. J. (1983). Medicinal Uses of South American Palms. Journal of ethnopharmacoloqy. Ethnopharmacology 10:157-179).
Prance G. T. (1975). Arvores de Manaus. Conselho Nacional de Desenvolvimento Cientifico e Tecnologico. Manaus. Instituto Nacional de Pesquisas da Amazonia.
Raimondi A. (1857). Elementos de Botánica Aplicada a la Medicina y a la Industria. Part II. Taxonomia, Fitografla y Geografla Botánica. Perú. M. Murga.
Rios, M., M.J. Koziol, H.Borgtoft Petersen& G. Granja. Eds. (2007), Plantas Útiles del Ecuador: aplicaciones, retos y perspectivas. Quito. Ediciones Abya-Yala,
Rusbr H. H. et al. (1930). The properties and Uses of Drugs. P. Philadelphia. Blakiston and Son & Co.
Sargent C. S. (1899). Serrenoa Serrulata as a Remedy. Kew Bulletin of Miscellaneous Information 147-148:55-56.
Schultes R. E. (1974). Palms and Religion in the Northwest Amazon. Principes 18(1):3-21.
Secab 1983). Especies Vegetales Promisorias de los Países del Convenio Andrés Bello. Bogotá. Fondo Colombiano de Investigaciones Científicas y Proyectos Especiales.
Souza N. (1973). Plantas Medicinales que Viven en Yucatán, Mexico. Instituto Tecnológico Enequenero.
Stevens A. A. (1927). A Textbook of Therapeutics. Septima. Philadelphia. Ed. W. b. Saunders Co.
Uphof J. C. (1968). Dictionary of Economic Plants. Second Ed. New York. Ed. Verlag Von J. Cramer.
Valencia, R. R. Montúfar, H. Navarrete, H. Balslev (2013). Palmas Ecuatorianas. Biología y Uso sostenible. Quito. Imprenta Mariscal.
Vogel V. J. (1970). American Indian Medicine. Norman, Oklahoma. University of Oklahoma Press.
Wilcox R. W. (1913). Materia Médica y Therapeútica. Eigth. Ed. Philadelphia. P. Blakiston's Son and Co.
Wren R. C. (1915). Pottery Cyclopaedia of Botanical Drugs and Preparations. Second Ed. London. Pottery and Clarke Ltd.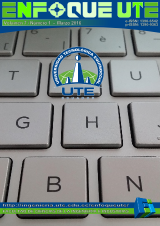 How to Cite
Argüello Mejía, A. (2016). Medicinal palms of the New World. Enfoque UTE, 7(1), pp. 91 - 110. https://doi.org/10.29019/enfoqueute.v7n1.90

This work is licensed under a Creative Commons 3.0 BY EC License.