Evaluación de emisiones de gases en un vehículo liviano a gasolina en condiciones de altura. Caso de estudio Quito, Ecuador
Edilberto Antonio Llanes Cedeño

Universidad Internacional SEK

Juan Carlos Rocha-Hoyos

Universidad Internacional SEK

Diana Belén Peralta Zurita

Universidad Internacional SEK

Julio César Leguísamo Milla

Universidad Internacional SEK
Palabras clave:
altura, consumo de combustible, emisiones contaminantes, factor de emisión, en ruta.
Resumen
En la actualidad es muy importante estimar la aportación del parque vehicular en los inventarios de emisiones contaminantes para la ciudad de Quito debido a su característica geográfica que la ubica en una altura sobre los 2810 m. En esta investigación se evalúan los factores de emisión en ruta de tres combustibles utilizados principalmente por vehículos livianos en el Ecuador; gasolina Súper con 93 octanos; gasolina Extra con 87 octanos; y gasolina Ecopaís (gasolina Extra y un 5 % de bioetanol). Se utilizó un vehículo Chevrolet Aveo 1.6 L instrumentado con un sistema on-board para obtener información de las emisiones contaminantes y el consumo total de combustible en una ruta predeterminada de 12 km, a velocidad promedio de 40 km/h. Se utilizó el modelo simplificado de combustión para desarrollar un balance de masa respecto a la cantidad de carbono presente en el combustible, y así obtener los factores de emisión ( ) en gramos de contaminante por kilómetro recorrido. Los resultados obtenidos son: gasolina Extra: CO 3.194 g/km, HC 0.060 g/km y NOx 0.142 g/km; gasolina 92 Súper: CO 4.770 g/km, HC 0.099 g/km y NOx 0.281 g/km; y gasolina Ecopaís: CO 5.939 g/km, HC 0.082 g/km y NOx 0.279 g/km.
Descargas
La descarga de datos todavía no está disponible.
Citas
Ait-Helal, W., Beeldens, A., Boonen, E., Borbon, A., Boréave, A., Cazaunau, M., ... & Gallus, M. (2015). On-road measurements of NMVOCs and NOx: Determination of light-duty vehicles emission factors from tunnel studies in Brussels city center. Atmospheric Environment, 122, 799-807.
Asociación de Empresas Automotrices del Ecuador AEADE. (2017). Anuario 2016, Obtenido de: http://www.aeade.net/anuario/
Belis, C. A., Karagulian, F., Larsen, B. R., & Hopke, P. K. (2013). Critical review and meta-analysis of ambient particulate matter source apportionment using receptor models in Europe. Atmospheric Environment, 69, 94-108.
El Comercio, EC. (2016). OMS Fichas de las ciudades más contaminadas del Ecuador: Disponible en: http://www.elcomercio.com/tendencias/ciudades-ecuador-polucion-enfermedades-contaminacion.html
Franco, V., Kousoulidou, M., Muntean, M., Ntziachristos, L., Hausberger, S., & Dilara, P. (2013). Road vehicle emission factors development: A review. Atmospheric Environment, 70, 84-97.
Frey, H. C., & Eichenberger, D. A. (1997). Remote Sensing of Mobile Source Air Pollutant Emissions: Variability and Uncertainty in On-Road Emissions Estimates of Carbon Monoxide and Hydrocarbons for School and Transit Buses (No. FHWA/NC/97-005). Center for Transportation Engineering Studies, Department of Civil Engineering, North Carolina State University.
Global MRV. (2017). Portable Emissions Measurement System OEM- 2100AX AXION R/S+, Disponible en: http://www.globalmrv.com/pems-axionrs-2/
Guasgua, J. F. A., Campaña, G. G. R., & Paredes, M. E. G. (2016). Estudio comparativo de gases contaminantes en un vehículo M1, utilizando gasolina de la Comunidad Andina. Enfoque UTE, 7(3), 110-119.
Hernández, M., Menchaca, L., & Mendoza, A. (2014). Fuel economy and emissions of light-duty vehicles fueled with ethanol–gasoline blends in a Mexican City. Renewable Energy, 72, 236-242.
INEN. (2002). NTE INEN 2204:2002. Límites permitidos de emisiones producidos por fuentes móviles terrestres a gasolina. Quito: INEN.
Lee, T. W., Lee, J. T., & Kim, J. S. (2012). Evaluation of On-Road NO x Emission from a Light Duty Diesel Vehicle using a Portable Emissions Measurement System. Journal of Korean Society for Atmospheric Environment, 28(1), 94-104.
Li, L., Ge, Y., Wang, M., Peng, Z., Song, Y., Zhang, L., & Yuan, W. (2015). Exhaust and evaporative emissions from motorcycles fueled with ethanol gasoline blends. Science of the Total Environment, 502, 627-631.
Park, S. S., Kozawa, K., Fruin, S., Mara, S., Hsu, Y. K., Jakober, C., ... & Herner, J. (2011). Emission factors for high-emitting vehicles based on on-road measurements of individual vehicle exhaust with a mobile measurement platform. Journal of the Air & Waste Management Association, 61(10), 1046-1056.
Rocha Hoyos, J. C., & Zambrano León, V. D. (2015). Análisis del funcionamiento del motor de encendido provocado, debido a la presencia de aditivos (Master's thesis, Quito, 2015.).
Rocha-Hoyos, J., Tipanluisa, L. E., Reina, S. W., & Ayabaca, C. R. (2017). Evaluación del Sistema de Tracción en un Vehículo Eléctrico Biplaza de Estructura Tubular. Información tecnológica, 28(2), 29-36.
Rojano, R. E., Mendoza, Y. I., Arregoces, H., & Restrepo, G. M. (2016). Dispersión de Contaminantes del Aire (PM10, NO2, CO, COV y HAP) emitidos desde una Estación Modular de Compresión, Tratamiento y Medición de Gas Natural. Información tecnológica, 27(5), 99-110.
Schifter, I., Díaz, L., Rodríguez, R., & Salazar, L. (2011 a). Assessment of Mexico's program to use ethanol as transportation fuel: impact of 6% ethanol-blended fuel on emissions of light-duty gasoline vehicles. Environmental monitoring and assessment, 173(1-4), 343-360.
Secretaría del ambiente DMQ. (2016). Calidad del aire en Quito 2015, disponible en: www.quitoambiente.gob.ec.
Weiss, M., Bonnel, P., Hummel, R., Provenza, A., & Manfredi, U. (2011). On-road emissions of light-duty vehicles in Europe. Environmental science & technology, 45(19), 8575-8581.
WHO. (2016). AMBIENT AIR POLLUTION. Disponible en: http://www.who.int/gho/publications/world_health_statistics/2016/whs2016_AnnexA_AmbientAirPollution.pdf?ua=1&ua=1. http://www.who.int/gho/publications/world_health_statistics/2016/whs2016_AnnexA_AmbientAirPollution.pdf?ua=1&ua=1
Wu, Y., Zhang, S., Hao, J., Liu, H., Wu, X., Hu, J. & Stevanovic, S. (2017). On-road vehicle emissions and their control in China: A review and outlook. Science of The Total Environment, 574, 332-349.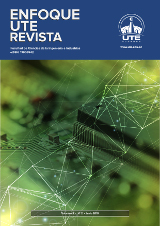 Cómo citar
Llanes Cedeño, E., Rocha-Hoyos, J., Peralta Zurita, D., & Leguísamo Milla, J. (2018). Evaluación de emisiones de gases en un vehículo liviano a gasolina en condiciones de altura. Caso de estudio Quito, Ecuador. Enfoque UTE, 9(2), pp. 149 - 158. https://doi.org/https://doi.org/10.29019/enfoqueute.v9n2.201
Sección
Automatización y Control, Telecomunicaciones, Mecatrónica, Electromecánica, Automotriz, ...

Esta obra está bajo una Licencia Creative Commons Internacional Attribución 4.0.