Improving productivity software through the adaptation of an agile development framework
Ángel Fiallos Ordoñez

Universidad de Especialidades Espíritu Santo
Keywords:
MDA, methodologies, agile, software, development
Abstract
(Received: 2015/02/20 - Accepted: 2015/06/17)
The current research suggests that using of agile methodologies in conjunction with open source software tools can improve productivity, reduce costs and optimize resources in the process of software development, and helps improve user satisfaction due to implementation of excellent quality software. The following analysis shows the most important variables for the successful implementation of IT development projects and their relation with the use of traditional and agile software development methodologies.
Downloads
Download data is not yet available.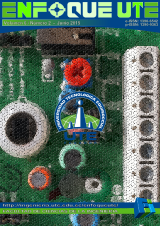 How to Cite
Fiallos Ordoñez, Ángel. (2015). Improving productivity software through the adaptation of an agile development framework. Enfoque UTE, 6(2), pp. 117 - 134. https://doi.org/https://doi.org/10.29019/enfoqueute.v6n2.64
Section
General Engineering

This work is licensed under a Creative Commons 4.0 License.