MOOCs: factors that decrease desertion in students
Keywords:
MOOC courses, virtual platforms, Mineduc project, abandonment
Abstract
We are experiencing constant technological change, which implies that learning and training requirements have been increased, they are increasingly high. One of these changes are Massive Open Online Courses (MOOC). As this is a new technology in our environment, the amount of desertion is high, it is essential to the analysis, to know the reasons of the high amounts of desertion and reduce the dropout of users in MOOC courses. For that, it is proposed to meet the different factors of the problem, for example, previous experience of users in making the MOOC courses, the level of satisfaction in the interaction with platforms that have courses MOOC and satisfaction by the end of a course. Additionally, knowing the user's profile will make it easier for future courses suit them, although entails increasing the team and tailor a course to users, for the purpose of that they feel supported, intending to follow course and that they possess a new learning experience.
Downloads
Download data is not yet available.
References
Borrás, O., Martínez, M., & Fidalgo, Á. (2014). Gamification in MOOC: challenges, opportunities and proposals for advancing MOOC model. Proceedings of the Second International Conference on Technological Ecosystems for Enhancing Multiculturality, 215-220.
Cabero, J., Llorente, M., & Vázquez, A. (2014). Las Tipologías de MOOC: Su Diseño e Implicaciones Educativas. Profesorado, 13-26.
Calderón, J., Ezeiza, A., & Badiola, J. (2013). La falsa disrupción de los MOOC: La invasión de un modelo obsoleto. 6º Congreso Internacional de Educación Abierta y Tecnología Ikasnabar, (págs. 9-11).
Cormier, D., & Siemens, G. (2010). The Open Course: Through the Open Door--Open Courses as Research, Learning, and Engagement. Educause Review, 45 (4), 30.
edX Inc. (18 de Julio de 2016). Quality education for everyone, everywhere. Recuperado el 4 de Septiembre de 2016, de edX: https://www.edx.org/about-us
Gomez, M., & De la Garza, L. (2016). Research Analysis on MOOC Course Dropout and Retention Rates. Turkish Online Journal of Distance Education, 3-14.
Haywood, J., & Macleod, H. (2014). To MOOC or not to MOOC? University decision-making and agile governance for educational innovation. Massive Open Online Courses: The MOOC Revolution, (págs. 1-14).
Jordan, K. (12 de Junio de 2015). MOOC Completion Rates: The Data. Recuperado el 22 de Julio de 2016, de Katy Jordan: http://www.katyjordan.com/MOOCproject.html
Lazo, J., & Contreras, R. (2013). El Diseño en Ecuador: Comunidad de aprendizaje en un entorno cMOOC. Conferencias LACLO, (pág. 5).
Lazo, J., & Contreras, R. (2015). Using MOOCs as a Research Approach and As Contributors to Local Knowledge. 5th Annual International Workshop on Higher Education.
Leony, D., Muñoz-Merino, P., Ruipérez-Valiente, J., Pardo, A., & Delgado, C. (2015). Detection and Evaluation of Emotions in Massive Open Online Courses. Journal of Universal Computer Science, 21 (5), 638-655.
Luján-Mora, S. (6 de Junio de 2013). Los MOOCs un año después: ¿qué ha pasado?, ¿qué va a pasar? Recuperado el 22 de Julio de 2016, de YouTube: https://goo.gl/mmv281
Luján-Mora, S. (2013). De la clase magistral tradicional al MOOC: doce años de evolución de una asignatura sobre programación de aplicaciones web. Revista de Docencia Universitaria (REDU), 11, 279-300.
Mailhes, V., & Raspa, J. (2015). MOOC: De la revolución educativa a la supervivencia. Letra. Imagen. Sonido. Ciudad Mediatizada. (14), 75-91.
MOOC-Maker. (2016). Deserción y permanencia en entornos MOOC. Construction of Management Capacities of MOOCs in Higher Education, 1, 1-94.
Pappano, L. (2 de Noviembre de 2012). The Year of the MOOC. Recuperado el 22 de Julio de 2016, de The New York Times: https://goo.gl/1t0F8a
Pernías, P., & Luján-Mora, S. (2013). Los MOOC: orígenes, historia y tipos. Comunicación y Pedagogía. Especial MOOC (269-270), 41-47.
Ramírez, M., & Carrillo, A. (2016). MOOC as a viable option to energy sustainability and technological training. Proceedings of the 9th annual International Conference of Education, Research and Innovation.
Sanchez-Gordon, S., & Luján-Mora, S. (2014). MOOCs gone wild. Proceedings of the 8th International Technology, Education and Development Conference (INTED 2014), (págs. 1449-1458).
Sanchez-Gordon, S., & Luján-Mora, S. (2016). How Could MOOCs Become Accessible? The Case of edX and the Future of Inclusive Online Learning. Journal of Universal Computer Science, 22 (1), 55-81.
Sanchez-Gordon, S., Calle-Jimenez, T., & Lujan-Mora, S. (2015). Relevance of MOOCs for Training of Public Sector Employees: Enrollment, Completion and Web Accessibility Challenges. 14th International Conference on Information Technology Based Higher Education and Training (ITHET 2015), 15, págs. 11-13.
Sanchez-Gordon, S., & Luján-Mora, S. (2016). Barreras y estrategias de utilización de los MOOC. En H. P. Gómez, G. B. Alba, & M. L. Carlos, La cultura de los MOOC para la innovación en educación superior desde contextos iberoamericanos (págs. 141-160). Madrid: Editorial Síntesis.
Stein, K. (2013). Penn GSE study shows MOOCs have relatively few active users, with only a few persisting to course end. Press release, University of Pennsylvania Graduate School of Education, 5.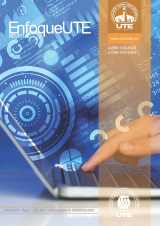 How to Cite
Yamba-Yugsi, M., & Luján-Mora, S. (2017). MOOCs: factors that decrease desertion in students. Enfoque UTE, 8(1), pp. 1 - 15. https://doi.org/10.29019/enfoqueute.v8n1.124
The articles and research published by the UTE University are carried out under the Open Access regime in electronic format. By submitting an article to any of the scientific journals of the UTE University, the author or authors accept these conditions.
The UTE applies the Creative Commons Attribution (CC-BY) license to articles in its scientific journals. Under this open access license, as an author you agree that anyone may reuse your article in whole or in part for any purpose, free of charge, including commercial purposes. Anyone can copy, distribute or reuse the content as long as the author and original source are correctly cited. This facilitates freedom of reuse and also ensures that content can be extracted without barriers for research needs.
This work is licensed under a Creative Commons 3.0 BY EC License.
In addition, the journal Enfoque UTE guarantees and declares that authors always retain all copyrights to the original published works without restrictions [© The Author(s)]. Acknowledgment (BY): Any exploitation of the work is allowed, including a commercial purpose, as well as the creation of derivative works, the distribution of which is also allowed without any restriction.