Enzymatic browning control in cut apples (Red delicious) through a system of active packaging
Keywords:
Polyphenoloxidase., 4-hexylresorcinol., ascorbic acid
Abstract
Enzymatic browning is one of the most relevant mechanisms of deterioration that take place in fresh-cut fruit and vegetables, as a consequence of the activity of the polyphenol oxidase enzyme on the phenolic compounds release after cellular lysis . This work is focused on the reduction of these enzymatic activity by an active packaging technology, which make use of a material that incorporates antioxidant active agents. Thus, films of ethylene-vynil alcohol copolymer (EVOH) containing a typical food antioxidant, such as ascorbic acid and a polyphenol oxidase-inhibiting agent, the 4-hexylresorcinol have been developed and used to wrap apple slices. The evolution of color, the enzymatic activity and the kinetic of agents release to food simulants were monitored. The results showed an improvement of apple slice color stability and a reduction of the enzymatic activity. The film with 10 % of agents in 3/1 ratio (4-hexylresorcinol/ascorbic acid) provided the best results.
Downloads
Download data is not yet available.
References
Bae, SJ.,Eum, HL., Kim, BS.,Yoon, J., Hong, SJ. (2015). Comparison of the Quality of Highland-Grown Kimchi Cabbage Chong Gwang during Cold Storage after Pretreatments. Korean Journal of Horticultural Science & Technology, 33(2), 233-241.
Cárdenas-Pérez, S., Méndez Méndez, J.V., Chanona-Pérez, J.J., Zdunek, A., Guemes-Vera, N., Calderón-Domínguez, G., Rodríguez González, F. (2017). Prediction of the nanomechanical properties of apple tissue during its ripening process from its firmness, color and microstructural parameters. Innovative Food Science and Emerging Technologies, 39, 79-87
Cortellino, G., Gobbi, S., Bianchi, G., Rizzolo, A. (2015). Modified atmosphere packaging for shelf life extensión of fresh-cut apples. Trends in Food Science  Technology, 46(2), 320-330.
Chukwan, T., Gary M, S., Judy, J., Diane M, B. (2017). The effect of high pressure processing on clingstone and freestone peach cell integrity and enzymatic browning reactions. Innovative Food Science and Emerging Technologies, 39, 230-240.
Landim, APM.,Barbosa, MINJ., Barbosa, JL. (2016). Influence of osmotic dehydration on bioactive compounds, antioxidant capacity, color and texture of fruits and vegetables: a review, 46(10), 1714-1722
Lee, EJ. (2014). Major Metabolites Involved in Skin Blackening of Niitaka Pear Stored under Cold Temperature. Korean Journal of Horticultural Science and Technology, 32(3), 359-365.
Linlin, L., Min, Z., Benu, A., Zhongxue, G. (2016). Recent advances in pressure modification-based preservation technologies applied to fresh fruits and vegetables. Food Reviews International, 33(5), 538-559.
Min, T., Xie, J., Zheng, ML., Yi, Y., Hou, WF., Wang, LM., Ai, YW., Wang, HX. (2017). The effect of different temperatures on browning incidence and phenol compound metabolism in fresh-cut lotus (Nelumbo nucifera G.) root. Postharvest Biology and Technology, 123, 69-76.
Musetti, A., Tagliazucchi, D., Montevecchi, G., Verzelloni, E., Antonelli, A., & Fava, P. (2015). Characterization of a combined treatment with alpha-Lipoic acid for the control of enzymatic browning in fresh-cut golden delicious apples. Journal of Food Processing and Preservation, 39(6), 681-687.
Pshenichnyuk, SA.,Modelli, A., Lazneva,EF.,Komolov,AS. (2016). Hypothesis for the Mechanism of Ascorbic Acid Activity in Living Cells Related to Its Electron-Accepting Properties. Journal of Physical Chemistry A, 120(17),2667-2676.
Quevedo, R., Diaz, O., Valencia, E., Pedreschi, F., Bastias, JM., Siche, R. (2016). Differences Between the Order Model and the Weibull Model in the Modeling of the Enzymatic Browning. Food and Bioprocess Technology, 9(11), 1961-1967.
Paillart, MJM., Van der Vossen, JMBM., Lommen, E., Levin, E., Otma, EC., Snels, JCMA., Woltering, EJ. (2016). Organic acids produced by lactic acid bacteria (Leuconostoc sp.) contribute to sensorial quality loss in modified-atmosphere-packed fresh- cut iceberg lettuce. Acta Horticulturae, 1141, 289-296.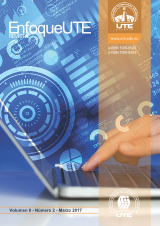 How to Cite
Jadán Piedra, F. (2017). Enzymatic browning control in cut apples (Red delicious) through a system of active packaging. Enfoque UTE, 8(2), pp. 66 - 77. https://doi.org/10.29019/enfoqueute.v8n2.158