Petroleum coke as a filter controller in oil-base drilling fluid
Rubén Dario Vega Mejía

Universidad de Oriente- Venezuela

Martín León

Universidad de Oriente

Patricia Lara

Universidad de Oriente
Keywords:
lignite, Soxhlet method, spectroscopy
Abstract
The large amount of petroleum coke produced in Venezuela, leadsed to its use as a filtering controller in oil-based fluids. Initially, the coke was subjected to an oil extraction process using the Soxhlet method and extraction of sulfur by means of microwaves. Then an infrared Spectroscopy (IR) was performed and compared with another spectroscopy of natural petroleum coke, where the effectiveness of the applied process was evidenced. Were made, four (4) drilling fluid (12 ppg) with coke as filter driver, varying its concentration in 6, 8, 10 and 12 lb / bl and after dynamic aging (300 ° F, 100 lpcm) the physical properties of plastic viscosity, yield point, gel 10 s, gel 10 min and filtrate were studied, obtaining a range of values of 25.3-26.3; 5.7-6.3; 4-5; 7-10 and 10.3-10.9 respectively. A statistical study of split plots demonstrated that there were significant statistical differences between the physical properties of the formulated fluids and the physical properties of a standard fluid with lignite as a filtering controller. It was concluded that despite the statistical differences presented, the use of petroleum coke as a filter controller for the conditions under study is possible.
Downloads
Download data is not yet available.
References
Ariza, E; Castro, A. y Gómez, J. (2013). Factibilidad del uso del almidón de achira como agente controlador de filtrado en lodos de perforación base agua. Rev.ion. Vol. 26, Núm.1, pp. 63-71.
CIED-PDVSA. (2002). Fluidos de perforación. (1ª ed.). Caracas, Venezuela.
Correia, J., García, M., Godoy, G., & Vega, R. (2015). Formulación de un fluido de perforaciónbase dieles de bajo impacto ambiental. Boletín de Geología, Vol. 37, Núm. 2, pp.75-82.
Da Silva, J.; Brandt, M. & Ferreira, A. (2004). Coque de petróleo como energía primaria para una planta de generación de electricidad. [En línea]. Disponible en http://www.seeds.usp.br/pir/arquivos/congressos/CISEMALIE2005/cimaie/Venezuela/VE%20%20DA%20SILVA%20%20INELECTRA%20%20Coque%20de%20Petr%F3leo%20como%20Energ%EDa%20Pr.pdf. Última visita Octubre de 2017.
De Chamorro, M.; Krauter, M. & Romano, M. (2000). Simultaneous demetallization and desulphuration of carbonaceous materials via microwaves. U.S. Patent 6068737.
Faergestad, I y Strachan, C. (2014). Desarrollo de un fluido de alto rendimiento a base de aceite para perforación exploratoria. Oilfieldreview, Vol. 26, Núm. 1, pp. 28-35.
Gómez, E., Andaverde, J., Santoyo, E . & Urquiza, G. (2009). Determinación de la viscosidad y su incertidumbre en fluidos de perforación usados en la construcción de pozos geotérmicos: aplicación en el campo de Los Humeros, Puebla, México. Revista Mexicana de Ciencias Geológicas, V. 26, Núm. 2, pp. 516-529
Gorrin K, Basantas G, Lopez J. & Rodriguez A. (2011). Usos del coque de petróleo en los procesos productivos del sector Siderúrgico. UNEXPO, Venezuela (Memorias de las IX Jornadas de Investigación 2011 – UNEXPO Puerto Ordaz - 6 al 9 de Julio de 2011)
Katz, R. (2001). Efectos ambientales de la sustitución de carbón por petcoke en la generación eléctrica y procesos industriales. Revista Ambiente y Desarrollo. Vol. XVII, Núm. 1, pp. 22 – 29.
Kräuter, R. & Pérez, M (2003). Estudio preliminar del reciclaje de ácido en la desmetalización y desulfuración simultánea de coques de petróleo venezolanos vía microondas. Revista de la Facultad de Ingeniería UCV. Vol. 18, Núm. 1, pp. 73-81.
Little, T y Hills, J. (1998). Métodos estadísticos para la investigación en la agricultura. Editorial Trillas. Segunda edición.
López, I. (2003). Fluidos de Perforación. [Libro en línea]. Disponible en http:www.scribd.com/doc/25599222/Fluidos-de-Perforación. Última visita, noviembre de 2017.
Ministerio del Poder Popular para la Ciencia, Tecnología e Innovación, 2012, Ejecutivo Nacional iniciará investigaciones para el aprovechamiento del Coque de Petróleo. [En línea]. Disponible en: http://www.mcti.gob.ve/actualidad/noticias/ejecutivo-nacional-iniciara-investigaciones-para-el-aprovechamiento-del-coque-de-petróleo. Última visita, Agosto de 2017.
Norma API. (2003) API RP 13B-1, Recommended practice for field testing oil based fluids drilling fluids. Quinta edición. Estados Unidos.
Norma EPA (2015) Método 3540C. Soxhelt extraction, part of test methods for evaluating solids waste, physical/ chemical methods. En línea. Disponible en www.epa.gov/hwsw846/sw-846-test-method-3540c-soxhelt-extraction. Última visita, Septiembre de 2017.
Pinzón, J. (2006). Viscosidad De suspensiones de una bentonita en estado natural y organofílica. Revista Colombiana de Química, Vol. 35, Núm. 2, pp. 225-232.
Samán Tecnología Integral en Petróleo (2010) Norma ISGC-8.0.1-1-00, Manual de Calidad de fluidos de perforación base aceite. Maracaibo- Venezuela.
Sánchez, L., Campo, G. & Cáceres, A. (2016). Algunos aportes en la extracción de vanadio, níquel y azufre en petrocoque. Revista Bases de la Ciencia. Vol. 1, Núm. 1, pp. 1-12.
Vega, R.; García, M.; Rivas, C.; Castillo, L.; Figueroa, Y. & Hernández, O. (2016). Uso del coque del complejo petroquímico general de división José Antonio Anzoátegui como controlador de filtrado en fluidos base agua. Revista Ciencia e Ingeniería. Vol. 37, Núm.. 3 pp. 137-146.
Wiliamson, D. (2013). Fundamento de los fluidos de perforación. Oilfieldreview, Vol. 25, Núm1, pp. 67-69.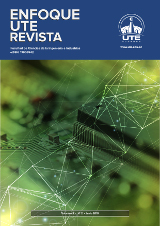 How to Cite
Vega Mejía, R. D., León, M., & Lara, P. (2018). Petroleum coke as a filter controller in oil-base drilling fluid. Enfoque UTE, 9(2), pp. 188 - 197. https://doi.org/10.29019/enfoqueute.v9n2.218

This work is licensed under a Creative Commons 3.0 BY EC License.