Multitemporal Analysis of vegetation change at Chimborazo Reserve as a result of climate change
Pamela Andrea Paula

ESPOCH

Luis Zambrano

ESPOCH

Paulina Paula

ESPOCH
Keywords:
Satellite images; NDVI; Supervised Classification; Ecosystems
Abstract
Climate change is a global problem that affects the state of conservation of ecosystems in all regions of the world; as well as in the Chimborazo Fauna Production Reserve, which is linked to anthropogenic activities inside and outside it, such as the extensive and intensive grazing of sheep and cattle that have caused effects on vegetation and soil given to the consumption of native plants and all ecosystem processes because they are related to each other. The methodology used to achieve optimal discrimination of vegetation change and conservation status is obtained through the application of satellite images LANDSAT 5, LANDSAT 7, orthophotos and aerial photographs from 1962 to 1966 up to 2010 distributed in three periods; using procedures such as supervised classification and the calculation of the Normalized Differential Index of Vegetation. Anthropogenic activity for the period 1962-1966 determines 0.26% and snow is 10.30%, while for the period 2010-2011, the percentage of intervention increases to 9.54% and the snow decreases to 4.46%, evidencing the loss of perpetual snow due to solar radiation.
Downloads
Download data is not yet available.
References
Arango M., Branch J., Botero, V. (2005). Clasificación no supervisada de coberturas vegetales sobre imágenes digitales de sensores remotos: "LANDSAT ETM+". Universidad Nacional de Colombia, Sede Medellín. Facultad de Minas. A. 1027. Medellín, Colombia. PG. 2622.
Arteaga A. (2014). El índice Diferencial de Vegetación Normalizado. GISGEEK. Veracruz.
Beltrán, K; Bustamante, M; Albán, M y Argüello, M. (Eds.). (2011). Los páramos de Chimborazo. Un estudio socio-ambiental para la toma de decisiones Gobierno Autónomo Descentralizado de Chimborazo/EcoCiencia/CONDESAN/Programa BioAndes/Proyecto Páramo Andino. Quito.
CANADA CENTRE FOR REMOTE SENSING. (2001). News and announcements. Recuperado de www.ccrs.nrcan.gc.ca (accedido 15/11/ 2015).
ECOLAP y MAE. (2007). Guía del Patrimonio de Áreas Naturales Protegidas del Ecuador. ECOFUND, FAN, DarwinNet, IGM. Quito, Ecuador. P. 152-156.
Holdridge, L. (2000). Ecología basada en zonas de vida. 4a reimpresión. San José, Costa Rica. Instituto Interamericano de Cooperación para la Agricultura. 216 p. Recuperado de https://books.google.com.ec/books?id=m3Vm2TCjM_MC&printsec=frontcover&soe=gbs_ge_summary_r&cad=0#v=onepage&q=40%25&f=false (accedido 09/01/2016).
INAMHI. (2009). El cambio climático en el Ecuador. Revista del Instituto Nacional de Meteorología e Hidrología. Quito. Ecuador.
INGTELSIG (2010). Metodología para el mapeo de los Tipos de Bosque y Análisis Multitemporal de sus cambios. CCAD – GTZ. Honduras.
Meneses-Tovar, C.L. (2011). El índice normalizado diferencial de la vegetación como indicador de la degradación del bosque. Comisión Nacional Forestal de México. Vol. 62. Pg. 40-46. Recuperado de http://www.fao.org/3/ai2560s/i2560s07.pdf (accedido 05/01/2016).
MINISTERIO DEL AMBIENTE. (2012). Estrategia Nacional de Cambio Climático del Ecuador 2012-2025. República del Ecuador.
MINISTERIO DEL AMBIENTE DEL ECUADOR. (2013). Sistema de Clasificación de los Ecosistemas del Ecuador Continental. Subsecretaría de Patrimonio Natural. Quito.
Muñoz A. P, (2015), Índices de Vegetación, Geógrafo, CIREN. Recuperado de: http://agroclimatico.minagri.gob.cl/wpcontent/uploads/sites/26/2015/05/Indices-de-vegetaci%C3%B3n-PedroMu%C3%B1oz.pdf (accedido 05/01/2016).
Tiedemann, J. L, Zerda, H. R. (2008). Relación Temporal NDVI-PRECIPITACIÓN del Bosque y Pastizal Natural de Santiago del Estero, Argentina. Universidad Nacional de Santiago del Estero. Facultad de Ciencias Forestales. Av. Belgrano 1912. (cp 4200). Santiago del Estero. Argentina. Volumen 14 Nº3. Pg. 497.
Wasserstrom, R; Southgate, D. (2013). Deforestación, reforma agraria y desarrollo petrolero en Ecuador, 1964-1994, Natural Resources, 4, 34-44 doi:10.4236/nr.2013. 41004. Recuperado de http://www.scirp.org/journal/nr (accedido 05/01/2016).
Yánez, P; Núñez, M; Carrera, F; Martínez, C. (2011). Posibles efectos del cambio climático global en zonas silvestres protegidas de la zona andina de Ecuador. La Granja. Vol. 13(1): 24–44. ISSN: 1390-3799. Recuperado de http://revistas.ups.edu.ec/index.php /granja/article/view/449/306 (accedido 05/01/2016).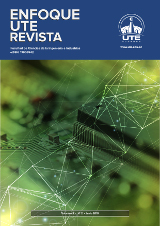 How to Cite
Paula, P. A., Zambrano, L., & Paula, P. (2018). Multitemporal Analysis of vegetation change at Chimborazo Reserve as a result of climate change. Enfoque UTE, 9(2), pp. 125 - 137. https://doi.org/10.29019/enfoqueute.v9n2.252

This work is licensed under a Creative Commons 3.0 BY EC License.