Influence of sediment from the Gullies in the development of erosion forms
Keywords:
Gullies, sedimentary deposits, regressive erosion, accumulation
Abstract
(Received: 2013/10/10 - Accepted: 2013/12/13)
This article presents the process of development of seven gullies. The area of study is located in the province of Pichincha. These gullies show extensive sedimentary deposits. The characteristic of the deposits, th stratification and analysis of the organic matter at different depths, demonstrate that the deposits were formed by the accumulation in the gullies. At a depth of 225-230 cm the deposits have higher organic matter content than the layers located more than a meter above. The influences of the deposits, the transformation of the forms of the gullies and the characteristics of erosive-accumulative process have been investigated. Also the characteristics of the gullies at multiple levels have been studied. The gullies that are at the top of the hillside belong to periods prior to the activation of the erosion, if compared to gullies in the lower parts of mountainside. Cyclical progress was considered in the self-development of the gullies.
Downloads
Download data is not yet available.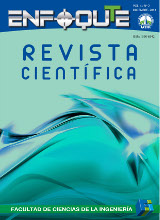 How to Cite
Krávchenko, R. (2013). Influence of sediment from the Gullies in the development of erosion forms. Enfoque UTE, 4(2), pp. 35 - 44. https://doi.org/10.29019/enfoqueute.v4n2.27