Embedded System Oriented to Babies in Crawl Phases for Accident Prevention in Applied a Smart Textile
Keywords:
Textil inteligente; sensor magnético; IoT; accidentes de bebé; Arduino.
Abstract
The crawling of babies is the way to discover and learn their motor, cognitive, social, and emotional functions, among others. Because of this, infants are exposed to different dangers such as falls, burns, bodily injuries among the most common, where the home is the place of major incidents. Due to the above, the present investigation focuses on the development of an embedded system within an intelligent textile that allows accidents to be noticed. The system is in a garment in the form of a harness that has a connection with knee pads with magnetic sensors. These elements are responsible for detecting magnetic security tapes previously placed in places of greatest danger in the home. As a result, the system issues an alert with a reaction time of 7.6 seconds, after the system is activated.
Downloads
Download data is not yet available.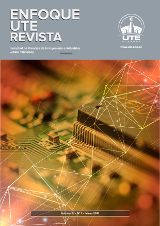 How to Cite
Chico Morales, I. J., Narváez Pupiales, S. K., Umaquinga Criollo, A. C., & Rosero Montalvo, P. D. (2018). Embedded System Oriented to Babies in Crawl Phases for Accident Prevention in Applied a Smart Textile. Enfoque UTE, 9(1), pp. 217 - 225. https://doi.org/10.29019/enfoqueute.v9n1.281
Section
Automation and Control, Mechatronics, Electromechanics, Automotive