Proposal of a referential Enterprise Architecture management framework for companies
Keywords:
Management Systems, Enterprise Architecture, Balanced Score Card, EFQM
Abstract
(Received: 2014/11/26 - Accepted: 2014/12/17)
Enterprise Architecture (EA) is conceived nowadays as an essential management activity to visualize and evaluate the future direction of a company. The objective of this paper is to make a literature review on EA to evaluate its role as management tool. It is also explained how EA can fulfill two fundamental purposes, first as a tool for assessing the current situation (self-assessment) of an organization; second as a tool to model and simulate future scenarios that allow better decision making for the restructuration and development of improvement plans. Furthermore an analysis is made of the integration possibilities of EA with other business management methodologies, as balanced score card (BSC) and the model of the European Foundation for Quality Management (EFQM). As the result a management framework is presented, which includes the required elements to achieve excellence and quality standards in organizations.
Downloads
Download data is not yet available.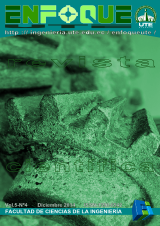 How to Cite
Esquetini Cáceres, C., & Moscoso Zea, O. (2014). Proposal of a referential Enterprise Architecture management framework for companies. Enfoque UTE, 5(4), pp. 70 - 88. https://doi.org/10.29019/enfoqueute.v5n4.48