Textile wastewater biocoagulation by Caesalpinia spinosa extracts
Keywords:
coagulation, flocculation, tara, tannin, turbidity
Abstract
(Received: 2014/12/06 - Accepted: 2015/03/24)
The textile industry in Ecuador is still a matter of concern because of the inappropriate disposal of their effluents into the local water supply. The present research was carried out in Pelileo (Tungurahua-Ecuador) where textile wastewaters are discharged into waterways. An environmentally friendly solution to treat highly contaminated organic textile wastewaters is herein evaluated: a remediation process of biocoagulation was performed using extracts from the Caesalpinia spinosa plant also known as guarango or tara. It was determined that using C. spinosa extracts to treat wastewater has the same statistical effect as when applying a chemical coagulant (polyaluminum chloride 15%). Activated zeolite adsorbed color residuals from treated water to obtain turbidity removal more than 90%. A mathematical model showed that turbidity removal between 50-90% can be obtained by applying 25-45 g/L of guarango extracts and zeolite per 700 mL of textile wastewater. The natural coagulation using C. spinosa extracts produced 85% less sludge than polyaluminum chloride, and removed high organic matter content in the wastewater (1050 mg/L) by 52%.

Downloads
Download data is not yet available.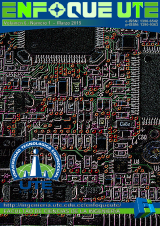 How to Cite
Revelo, A., Proaño, D., & Banchón, C. (2015). Textile wastewater biocoagulation by Caesalpinia spinosa extracts. Enfoque UTE, 6(1), pp. 1 - 12. https://doi.org/10.29019/enfoqueute.v6n1.50
The articles and research published by the UTE University are carried out under the Open Access regime in electronic format. By submitting an article to any of the scientific journals of the UTE University, the author or authors accept these conditions.
The UTE applies the Creative Commons Attribution (CC-BY) license to articles in its scientific journals. Under this open access license, as an author you agree that anyone may reuse your article in whole or in part for any purpose, free of charge, including commercial purposes. Anyone can copy, distribute or reuse the content as long as the author and original source are correctly cited. This facilitates freedom of reuse and also ensures that content can be extracted without barriers for research needs.
This work is licensed under a Creative Commons 3.0 BY EC License.
In addition, the journal Enfoque UTE guarantees and declares that authors always retain all copyrights to the original published works without restrictions [© The Author(s)]. Acknowledgment (BY): Any exploitation of the work is allowed, including a commercial purpose, as well as the creation of derivative works, the distribution of which is also allowed without any restriction.