Using plukenetia volubilis (sacha inchi) to improve the nutritional components of burger
Keywords:
Plukenetia volubilis, Sacha Inchi, Burger, Functional food
Abstract
(Received: 2015/03/18 - Accepted: 2015/05/27)
Three levels of paste Plukenetia volubilis (Sacha Inchi) consisting of 10, 15% and 20% were evaluated to replace the weight percent lard conventionally used to improve the nutritional quality of the common hamburger, compared with a reference group. The experimental units were 10 burgers, weighing 100 g. each and a total of 120 were analyzed in a completely randomized design with three replications. The research was conducted in the Universidad Estatal Amazónica and bromatológics and microbiological analyzes to determine the quality of the raw material and products are made in laboratory of the Faculty of Chemical Sciences of the Universidad Central del Ecuador. As supplements sensory tests and studies Benefit / Cost performed. The results show the variation of 10% pulp Sacha Inchi as the most recommended for use in industry.
Downloads
Download data is not yet available.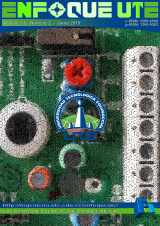 How to Cite
Baldeón Clavijo, D., Velásquez Rodríguez, F., & Castellanos Estupiñán, J. E. (2015). Using plukenetia volubilis (sacha inchi) to improve the nutritional components of burger. Enfoque UTE, 6(2), pp. 59 - 76. https://doi.org/10.29019/enfoqueute.v6n2.60