Design of a fluidized bed incinerator to process organic solid waste
Keywords:
incinerator, fluidization bed, temperature, time
Abstract
This work includes the theoretical design of a fluidized bed incinerator for organic waste disposal, according with the most advanced parameters published about the subject, taking into account the regulations provided for this type of equipment and related environment. Current designs of incinerators and fluidized bed gasifiers proved to be mostly cylindrical. The design element to which greater importance is ascribed to the incinerator operating temperature and residence time of the waste inside it. The incinerator operating temperature should be between 850 and 1.100 ° C to ensure almost complete destruction of the organic compounds in the waste and prevent the emission of pollutants, mainly dioxins and furans, the residence time is three (3) minutes and silica sand is proposed to be used as support material, to comply with environmental regulations and health techniques. Incinerator dimensions for 1 ton hr-1 treatment capacity are determined by the residence time, volume and density of the waste to be incinerated, and were 514 mm in diameter and 6.650 mm of high.
Downloads
Download data is not yet available.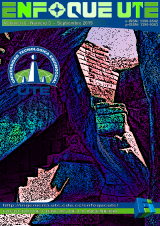 How to Cite
La Verde Spano, S., & Taylhardat, L. (2015). Design of a fluidized bed incinerator to process organic solid waste. Enfoque UTE, 6(3), pp. 81 - 95. https://doi.org/10.29019/enfoqueute.v6n3.71