Automatic delimitation of microwatershed using SRTM data of the NASA
Keywords:
Watershed, Pfafstetter method, automatic delimitation, Digital Elevation Model, Geographic Information Systems
Abstract
The watershed as the basic territorial unit of planning and management of water resources, requires its proper delimitation of the catchment or drainage area, faced with this situation, the lack of geographic information of Casacay river micro watersheds, hydrographic unit should be resolved, for this purpose the research was aimed at automatic delimitation of micro watersheds using of Geographic Information Systems (GIS) techniques and the project Shuttle Radar Topographic Mission (SRTM) 30 meters spatial resolution data. The selected methodology was the Pfafstetter one, with which nine micro watersheds were obtained with their respective codification allowing to continue with watersheds standardization adopted by Ecuador Water's Secretariat. With the investigation results watersheds will be updated with more detail information, promoting the execution of tasks or activities related to the integrated management of the hydrographic unit studied
Downloads
Download data is not yet available.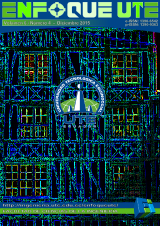 How to Cite
Jumbo Castillo, F. A. (2015). Automatic delimitation of microwatershed using SRTM data of the NASA. Enfoque UTE, 6(4), pp. 81 - 97. https://doi.org/10.29019/enfoqueute.v6n4.80

This work is licensed under a Creative Commons 3.0 BY EC License.