Diversity of vascular flora at Andino's Choco area in Selva Virgen
Keywords:
forest, biodiversity, vascular flora, biological richness
Abstract
The forest near the Hostería Selva Virgen, located in Pichincha, northwestern Andean Chocó area, is one of the biodiversity hotspots in the world, reason that determined the analysis of the vascular flora in the zone. For this study we did a temporary transects of 50 x 4 and 50 x 2 m covering an area of 0.1 hectares. We calculated Sorensen, Simpson and Shannon indexes, using the Past software, obtaining the following results: 159 species (spp.) registered corresponding to 121 genera and 54 families. Families with more species were: 15 spp Moraceae, Rubiaceae 10 spp, Arecaceae 9 spp, Fabaceae 9 spp, Melastomataceae 8 spp and Meliaceae 8 spp. The diversity obtained has a value of 0.95. It is interpreted in the Simpson index as a high diversity. Richness was 0.33, interpreted as an average richness. Sorensen index identifies areas that share more species. Endemism is low: 6.25%. The high biodiversity found in the studied forest shows an important biological richness; therefore more studies are suggested, because this zone has been rarely explored from the biological point of view.
Downloads
Download data is not yet available.
References
Albuja, L., A. Almendáriz, R. Barriga, L. D. Montalvo, F. Cáceres y J. L. Román. (2012): Fauna de Vertebrados del Ecuador. Quito, Instituto de Ciencias Biológicas. Escuela Politécnica Nacional.
Bravo, E. (2014): La biodiversidad en el Ecuador. Quito, Editorial ABYA YALA, Universidad Politécnica Salesiana.
Cerón, C. E. 2001. Caracterización botánica de la comunidad Playa de oro, cuenca del río Santiago, provincia de Esmeraldas. Cinchonia 2(1): 30-65.
Cerón, C. E. & I. B. Ojeda. 2006. Diversidad florística de un bosque nuboso en Pacto, Pichincha-Ecuador. Cinchonia 7(1): 16-27.
Cerón, C.E. & M. Yánez. 2001. Diversidad y especies frecuentes en los remanentes de la parte baja de la cordillera de Toisan, implicaciones para su conservación y manejo. Cinchonia (Quito) 2(1): 66-82.
Pitman, N., P. Jorgensen, R. Williams, S. León, R. Valencia (2002): Extinction-Rate Estimates for a Modern Neotropical Flora. Conservation Biology 16 (5), 1427-1431.
Ríos, M. (1993): Plantas útiles en el Noroccidente de Pichincha Etnobotánica del Caserío Álvaro Pérez Intriago y la Reserva Forestal ENDESA. Hombre y Ambiente 26 (VII), 7-184.
Valencia, R. N. Pitman, S. León-Yánez & P.M. Jorgensen. 2000. Libro Rojo de las Plantas Endémicas del Ecuador 2000. Publications of QCA Herbarium, Pontificia Universidad Católica del Ecuador, Quito.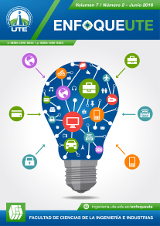 How to Cite
Aguirre Ulloa, X., & Endara, A. (2016). Diversity of vascular flora at Andino's Choco area in Selva Virgen. Enfoque UTE, 7(2), pp. 82 - 96. https://doi.org/10.29019/enfoqueute.v7n2.97

This work is licensed under a Creative Commons 3.0 BY EC License.