Possible health risks due to the consumption of aspartame
Keywords:
aspartame, acceptable daily intake, carcinogenesis, phenylketonuria
Abstract
(Received: 2014/03/09 - Accepted: 2014/06/27)
Sweeteners are compounds that give the sweet taste to foods, drinks and drugs. Aspartame is one of the most used today; its metabolism produces phenylalanine, aspartic acid and methanol. The purpose of this research was to review the scientific literature about the levels of consumption considered safe, toxicology and epidemiological data of aspartame. The European Parliament approved it as a food additive in 1994 and the FDA did it in 1996. Joint FAO / WHO Expert Committee on Food Additives and FDA set the Acceptable Daily Intake at 40 and 50 mg / kg bw / day, respectively. The sweetener and its degradation products have been evaluated for over 30 years with the involvement of numerous international organizations. However, there is still controversy over its use because there are researches whose results attribute to it neuropsychiatric side effects, brain tumors, carcinogenic properties for different organs, damage to the fetus during pregnancy, development of lymphomas and leukemia, while other researchers say their use is harmless to humans if consumption is less than the Acceptable Daily Intake. It is not recommended for people with phenylketonuria and pregnant women.
Downloads
Download data is not yet available.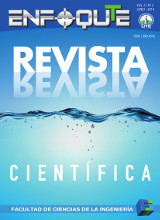 How to Cite
Guerrero Villegas, T., & Mora Flores, G. (2014). Possible health risks due to the consumption of aspartame. Enfoque UTE, 5(2), pp. 1 - 13. https://doi.org/10.29019/enfoqueute.v5n2.36
The articles and research published by the UTE University are carried out under the Open Access regime in electronic format. By submitting an article to any of the scientific journals of the UTE University, the author or authors accept these conditions.
The UTE applies the Creative Commons Attribution (CC-BY) license to articles in its scientific journals. Under this open access license, as an author you agree that anyone may reuse your article in whole or in part for any purpose, free of charge, including commercial purposes. Anyone can copy, distribute or reuse the content as long as the author and original source are correctly cited. This facilitates freedom of reuse and also ensures that content can be extracted without barriers for research needs.
This work is licensed under a Creative Commons 3.0 BY EC License.
In addition, the journal Enfoque UTE guarantees and declares that authors always retain all copyrights to the original published works without restrictions [© The Author(s)]. Acknowledgment (BY): Any exploitation of the work is allowed, including a commercial purpose, as well as the creation of derivative works, the distribution of which is also allowed without any restriction.