Aspects and environmental impacts associated with the production of concrete
Keywords:
Concrete plants, environmental aspects, life cycle, corporate social responsibility
Abstract
Concrete plants are important to the economy of a country. However, this industry causes major environmental impacts in each of the steps involved in the manufacturing process of concrete production which are analyzed in this research. In addition, the perception of experts and workers in the area, about the environmental impacts associated with the activity of a producer of concrete was evaluated. The methodology used for the analysis of steps in the production process was as kind documentary. For to evaluate perception of environmental impacts the methodology used was descriptive non experimental, using interviews with workers related to the manufacturing process of the concrete. Among the major identified environmental impacts are dust emissions and improper handling of effluents, hazardous and non-hazardous materials. Among the proposals put forward to address these impacts include: installation of dust collectors, settling tanks, management plans for hazardous and non-hazardous materials, among others. An analysis of the results incorporating the principles of corporate social responsibility for improving or minimizing adverse impacts are detected proposed
Downloads
Download data is not yet available.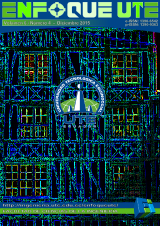 How to Cite
Navas de García, A., Reyes Gil, R. E., & Galván Rico, L. E. (2015). Aspects and environmental impacts associated with the production of concrete. Enfoque UTE, 6(4), pp. 67 - 80. https://doi.org/10.29019/enfoqueute.v6n4.79